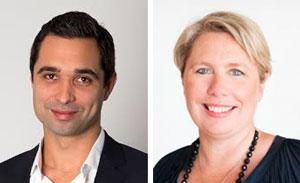 GroupM media agency Mindshare has opened an office in New Zealand and appointed former Ogilvy NZ media chief Samantha Osbourne to run it.
"Samantha has been talking to us for a number of years about setting up Mindshare here and we're very happy that we are able to now formalise that opportunity as we build GroupM New Zealand," said GroupM NZ ceo Sean Seamer, a former MediaCom APAC head of business development who was appointed to the Auckland role just four months ago.
Sydney-based Mindshare Australasia ceo Katie Rigg-Smith says the Mindshare products and approach to media thinking are proven globally and she's thrilled to be launching the brand in New Zealand with Samantha Osborne at the helm.
"Samantha's excellent reputation has preceded her and I look forward to seeing our product and offering come to life in New Zealand under her leadership," she says.
Samantha Osbourne said: "In order to deliver the most innovative and effective solutions to its clients, it is critical to be in touch with changes in technology and their impact on consumer behaviour."
"The way in which audiences experience and engage with brands has fundamentally changed. Our tools and technologies and most importantly our people enable us to be at the forefront of this ongoing evolution. Globally we have always invented and created to stay ahead of the pack; and we will continue to adapt and innovate within our business and most importantly for our clients and partners. As long as media keeps evolving, so will we."
"I'm very excited to be launching such an established global brand into the New Zealand market. Mindshare is a brand I have long admired and wanted to be part of, because its values and culture are closely aligned with the way I like to work and the type of culture I look to build."
GroupM set up its NZ office in November last year. It's media agency portfolio include MediaCom, MEC and Maxus.
---