AUCKLAND, Thursday: The Monkeys Aotearoa as brought together US-produced Game of Thrones prequel House of the Dragon and Sky & Neon – via the recent All Blacks v Ireland match at Sky Stadium.
The Monkeys ceo Justin Mowday said: "High-drama and thrilling action is always to be expected when New Zealand take to the rugby pitch. However, the arrival of dragons at during half-time at the All Blacks v Ireland match was not your typical pitch invasion.
"To celebrate the upcoming launch of House of the Dragon, spine-tingling roars, fire breathing, and imposing shadows were witnessed in the Kiwi capital.
---
"We wanted to make the promotion as epic as the show – what could be better than a dragon landing on the roof of a stadium in front of 38,000 people?"
---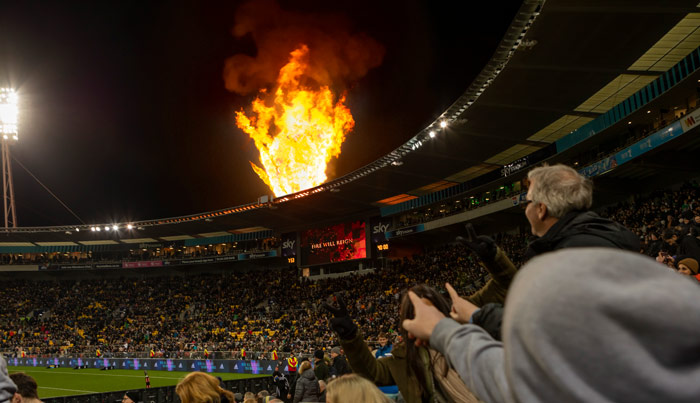 "Knowing how much New Zealanders loved the original franchise and wanting to create a truly memorable moment to launch the new series, Sky challenged us to do just that.
Sky Chief Executive, Sophie Moloney, said: "We wanted an activation that felt true to the spirit of the programme but would also delight spectators at Sky Stadium and viewers at home alike.
"The Monkeys certainly delivered on both fronts."
Mowday: "We wanted to make the promotion as epic as the show, what could be better than a dragon landing on the roof of a stadium in front of 38,000 people?"

CREDITS
Agency: The Monkeys, part of Accenture Song
Chief Creative Officer: Damon Stapleton
Creative Director: James Conner
Creative Director: Christie Cooper
Head of Planning: Tom Sykes
Senior Planner: Craig McLeod
Art Director: Susannah O'hUadhaigh
Copywriter:Arron Sharma
Head of Integrated Production: Rosie Grayson
Group Business Director: Ruth Coulson
Business Executive: Jackson Edgecombe
Also: Firework Professionals Ltd,  Liquid Studios, Creature Post, Kaboose Media
---