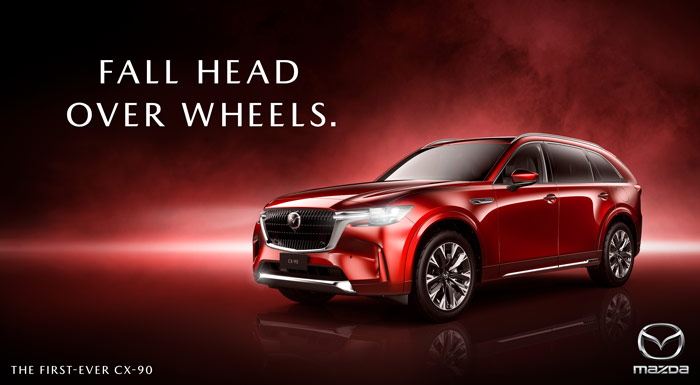 AUCKLAND, Today: To announce the arrival of two new generation Mazda SUVs – the CX-60 and CX-90 – Mazda NZ says it is "driving home the full gamut of human emotions in the new brand platform".
Mazda NZ marketing GM General Manager Terrianne Brown said: "You get more in a Mazda is unashamedly proud to explore desire and triumphant happiness right through to jealousy and righteous anger in order to tell Kiwis about the many great reasons why they should want a Mazda."
Directed by Derin Seale at Finch, the campaign films will be supported by OOH, print, digital and social. The work will continue to launch other Mazda models over the coming years.
"You get more in a Mazda is literally true," Brown said.
---
"The brand platform is the first work to launch from The Monkeys Aotearoa after winning Mazda NZ in March 2023."
---
"You get more features, better craftsmanship, design and a market-leading service plan. But it's also emotionally compelling. We've had a lot of fun bringing honest emotions to life and charting a course different from the typical car ad."
The Monkeys Aotearoa chief creative officer Damon Stapelton said: "Jealous glances from your neighbours, respect from your friends and the excitement you feel when you're behind the wheel are all heightened and explored to get Mazda top of mind with Kiwis keen to make a smart choice and to justify that decision with their friends."
The brand platform is the first work to launch from The Monkeys Aotearoa after winning Mazda New Zealand in March 2023.
View the videos …

CREDITS
Client: Mazda
Managing Director: David Hodge
General Manager – Marketing: Terrianne Brown
Creative Agency: The Monkeys Aotearoa, part of Accenture Song
Chief Creative Officer: Damon Stapleton
Chief Business Officer: Storm Day

Creative Director: Christie Cooper
Creative Director: James Conner
Junior Art Director: Susannah O'hUadhaigh
Junior Copywriter: Arron Sharma
Head of Integrated Production: Rosie Grayson
Integrated Producer: Callum Crabb
Design Lead: Lorenz Perry
Senior Finished Artist: Lisa Stowers
Studio Designer: Vivian Heng
Planning Director: Craig McLeod
Business Director: Michael Doolan
Business Manager: Jackson Edgecombe

Media Agency: MBM
Client Service Director: Deborah Brown
Group Business Director: Hilary Lill

Production Company: FINCH
Director: Derin Seale
Producer: Jimena Murray
Managing Director: Corey Esse
Executive Producer: Rebekah 'Bex' Kelly
Cinematographer: Gin Loane
Production Designer: Jon Lithgow
Costume Designer: Kristin Seth
Editor: Julian Currin
Casting: Kate McGill
Colourist: Pete Ritchie
VFX: Creature Post
Audio Post: Liquid Studios
Original Music: Peter van der Fluit
Sound Design: Craig Matuschka
Retouching: Sixtyfour
About The Monkeys Aotearoa
The Monkeys, part of Accenture Song, create provocative ideas that live within advertising, entertainment and technology. They've been called an ad agency, a collective, a branded content company, the business model of the future and a bunch of bloody dreamers. Truth is, they're a bit of each.
---