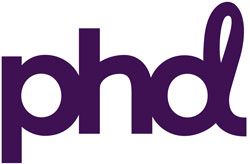 NZ's PHD Network Ltd has unveiled a name change of its broader media services – from PHDiQ (digital media specialists) and Spark PHD (offline media expertise) – to PHD.
"The move towards a single brand name is a no-brainer for the agency whose fully integrated media offering is the only experience of its clients and partners," said PHD ceo Louise Bond.
"Clients see us as one brand," she said. "While we have both account management personnel and digital specialists, the model we operate under is wholly integrated. In that sense we've long outgrown our dual-brand set-up, and operating all media services under the one PHD brand name just makes better sense."
New data director
Coinciding with the agency name change is a bolstering of its digital specialist service. PHD has appointed Torsten Stolt as data director. Torsten joins the agency on June 13, and brings with him expertise across business intelligence software and marketing analytics from his time at Skinny, Mighty River Power and Huawei.
Torsten's role as data director will bridge PHD's technology and digital offering headed up by Christophe Spencer, and the agency's strategy team led by Simon Bird. This position ensures PHD is using data to be more efficient, more informed and more effective.
---
"Much of the 'big data' movement is focused solely on finding efficiencies, and while this can improve pricing and ROI ratios, it can also cost clients business growth," Bird says. "By placing our data people in between digital and strategy we can balance both efficiency and growth objectives," explains Simon.
---
Spencer said: "Our industry has a propensity to talk up major change. Yet, if you think about it, client business goals haven't really changed.  Neither have agency business goals, and media consumption habits haven't altered as much as some are claiming.  What has changed dramatically is technology and the infinite data we can extract.  Media agencies are fast becoming technology companies and Torsten's expertise in data will be critical to the future success of our business and our clients' business."
PHD's view is that clients will benefit when data and strategy are inextricably linked, with each one guiding, influencing and improving the other.
"The evolution at PHD is in their use of technology and engagement with data, and the way in which this is informing their thinking and planning.  I'm really excited to be joining this future-focused team", says Torsten.
The PHD name change is effective immediately.
There is no change to the Spark PR & Activate brand name.
About PHD
PHD Worldwide is known globally as an innovator in communications planning and buying across broadcast, print, digital, mobile, social and emerging media. Built on a culture of thought leadership, PHD's philosophy is 'Finding a Better Way'. PHD is one of the world's fastest growing and most awarded media and communication agencies, with over 3000 staff working in over 80 offices worldwide.
PHD started life in 1999 as Spark Media, growing to become New Zealand's leading independent media agency. The agency rebranded in 2007 to Spark PHD, having joined the global PHD network. It was the first media agency in New Zealand to open a PR and activation arm, Spark PR & Activate, and a digital division in the form of PHDiQ.
Also operating under the same umbrella company are Accuen @ PHD and Resolution @ PHD; programmatic buying and analytics specialists respectively.
The PHD network is part of the Omnicom Media Group (www.omnicommediagroup.com), a division of Omnicom Group Inc. (NYSE: OMC) www.phdmedia.com.
---