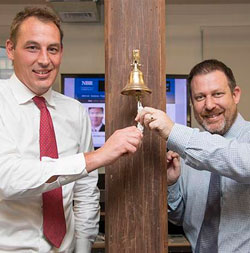 The NBR's daily business newsletter/website is claiming 4000 individual paid members – an impressive tally for NZ's only true paywall-protected news service.
"They said it couldn't be done," crows NBR technology editor Chris Keall, in today's edition.
"When NBR Online first introduced its paywall in 2009, people lined up to give it the bash. Sam Morgan, then a Fairfax director, called it 'the brick wall' – and he was one of the politer ones.
"But it turns out that if you deliver news people can use, they are willing to pay for it.
"People did sign on, and new subscription options have seen numbers accelerating over just the past six months to hit 4000 individual paid member subscribers today.
"Their numbers are supplemented by 336 organisations with IP (internet protocol) subscriptions that let every staff member access NBR Online from their office.
"The list of IP subscribers (yes, an actual list – here: www.nbr.co.nz/company-list) includes nearly every one of New Zealand's largest organisations from blue-chip corporates to government departments and universities.
"They're all part of a unique monthly NBR Online audience that Nielsen puts at 62,000 – more than double the size when the paywall was introduced.
"Revenue from our paywall has played a primary role in funding what is easily New Zealand's largest business newsroom, bolstered over the past year by the addition of the award-winning journalists Tim Hunter and Jenny Ruth, plus NBR Radio broadcasters Grant Walker and Andrew Patterson.
"The success of our individual and corporate subs have proved the cynics wrong. People will support high-quality journalism. So from our newsroom and everybody at NBR: Thank you."
---