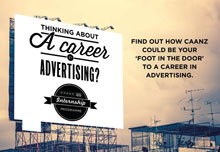 Conquering New Zealand's tertiary institutions one city at a time, CAANZ industry development manager Marlen Smith has been on a quest to find the country's top graduates to intern at your agency. Applications for the 2015 CAANZ Intern Programme are now open.
"With so many different types of degrees, majors and double-majors these days, we have invited grads of all creeds and colours to apply," Smith says. "From communications grads to commerce, law and science grads, we'll be presenting a smorgasbord of candidates to pick and choose from this year."
To be presented with some of the industry's future stars, contact Marlen Smith on marlen@caanz.co.nz or events coordinator Sasha Langham on sasha@caanz.co.nz.
Selection process will commence in October.
Course details, costs, dates
Applications Open: 1 August 2014
Applications Close: 30 September 2014
Commences: February 2015
Type: Fixed Term Contract for nine months
Remuneration: $35,000 pro rata
Location: Auckland and Wellington
How to apply: CAANZ Intern Programme Entry Criteria
Applicants must:
Be a New Zealand citizen and/or permanent resident
Not be currently employed in an advertising or communications agency in any capacity
Possess a university degree in any discipline – ensure you have completed your degree less than a year ago or you will graduate in time to commence an internship in February 2015.
Application procedures: To apply, please send aA covering letter which includes a personal statement and answers the following questions:
Why do you want to get into advertising?
Name ads you are familiar with and what interests you about them?
What is unique about you?
What do you do well?
What don't you do well?
Please include your name, contact phone number, email and address at the top of your personal statement covering letter.
Your CV- no longer than 4 pages.
Please supply your CV including your subjects, qualifications, and years.
Please include your name, contact phone number, email and address at the top of your CV.
Please also supply a head shot photo that is 240H x 320W pixels.
Word documents only.
Email Subject Heading: Application CAANZ Intern Programme 2015 – Insert Your Name
Submit your CV and covering letter to office@caanz.co.nz.
See more at: caanz.co.nz/professional-development/internships/caanz-internships/#sthash.XDwpSpST.dpuf
---