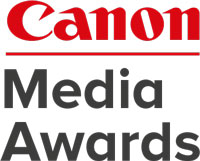 New awards reflecting the rapidly changing media landscape are included in the line‐up of categories for the 2016 Canon Media Awards.
Entries for the 2016 awards will be invited next month with the awards to be announced and presented in Wellington on May 20 next year. Now in their 42nd year, the awards are run by the Newspaper Publishers Association. Canon has been principal sponsor since 2010.
For 2016, the majority of writing awards will be platform-neutral, meaning news stories, features and opinion pieces in each category will be judged against one another irrespective of whether they were published in a newspaper, magazine or on a website.
Heavyweight awards such as Newspaper of the Year, Magazine of the Year and Best Website will remain while major new digital awards including Best News Site Or App, Best Sport Site, Best Lifestyle/Entertainment Site and Best Blog Site have been introduced. Other newcomers will be Best Editorial Campaign or Project, Best Coverage of a Major News Event and Best Innovation In Storytelling.
New categories aimed more at individual journalists include Scoop of the Year And Editorial Leader of the Year which will sit alongside best investigation and the premier reporting and feature writing awards.
The previous categories of columns, editorials and blogs have been merged into a new genre of opinion.
Reflecting expansion of the photographer's skillset to include video, the photographic awards will now include four video categories including Videographer of the Year.
The new list has evolved out of discussions with senior editors from the main publishing groups.
Entries will be accepted by the NPA from Monday 8 December, closing on Friday 12 February.
Detailed entry criteria and conditions will be provided at www.canonmediaawards.co.nz before the entry period opens. A full list of categories can also be seen on this website.
---