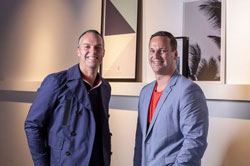 A new creative agency has launched in Auckland – Davy & Chapman opened its doors in Mt Eden just one week ago, founded by Campaign Director Aaron Davy and Creative Director Mike Chapman.
The pair say they enjoy an eye for detail and a desire to create brands that genuinely connect with people. They describe their new shop as a multi-disciplined creative agency underpinned by strategy.
They have worked together for 15 years in creative, design and print fields, most recently at Auckland creative print production shop CCL Communications Group.
The agency has already signed Southern Cross Hospitals, Rowing New Zealand and Auckland Conventions, Venues & Events.
"As with many business sectors, ours is a crowded and competitive market with everyone vying for a point of difference," says Davy. "We are all about relationships, are confident in our creative expression and strive for excellence in our service delivery."
Says Chapman: "There's no substitute for great relationships, passion and authenticity. We thrive on working in partnership with our clients to create brands that influence perception and create a truly engaging experience.
"We're not afraid to push the boundaries so we can genuinely connect with people. In a creative agency, it's about harbouring that challenger mentality and striking the right balance between creative collaboration and delivering measurable results."
---