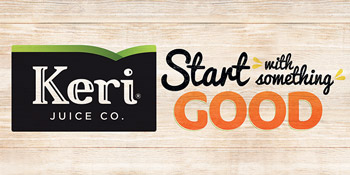 A new Parnell-based brand activation agency, Geometry Global, is the creative force behind the Keri Juice Co's new point-of-sale rollout.
Geometry Global, which opens officially next week, is part of WPP, and was born out of the merger between G2, OgilvyAction and JWTAction. You can see their global reel here: geometry.com/agency.
Geometry Global worked with the Keri team to develop and manage the transition to the new POS model brief – to maximise the existing path to purchase and proactively create purchase behaviour.
The reinvigorated appearance features a natural wood and fruit design which is translated across A3 poster packs, counter glorifiers, fridge decals, pallet wraps and off location display.
"We wanted to convey the lifestyle role that Keri fruit juice plays every day'" says Coca-Cola Oceania shopper marketing manager Shelley Smith.
"The cut fruit and wood design communicate the goodness and natural quality of the product, while the sun-drench photography style serves to express that vibrant flavour hit.
"The new display design includes the tagline Start with something GOOD which reminds shoppers that having a glass of Keri in the morning is a refreshing, tasty way to begin their day."
The POS redesign is part of an initiative to maximise the existing path to purchase and proactively create purchase behaviour.
The new approach supersedes the existing Shopper Path to Purchase principals and targets consumers at each of the four moments outlined by the Zone Approach of Shopper Marketing, including Proximity to the store, Transition/Awareness, Impulse/Enticement, and the moment of purchase, Destination/Choice.
"We anticipate this approach will prove to be effective in attracting additional purchasers, enticing shoppers or passers-by to make the transition from unengaged, to considering purchase, to purchasing the product," Smith said.
"It targets the consumer at each of the four relevant zones leading up to purchase, reiterating the opportunity to buy and reminding them of the product benefits."
The new elements will roll out across route trade stores, food service stores, convenience stores and grocery stores.
CREDITS
Client: Keri Juice Co (Coca-Cola Oceania)
Shopper marketing manager: Shelley Smith
Agency: Geometry Global (www.geometry.co.nz)
Account Director: Sarah Marrs
PR: FCB (Alisha Thomas)
---