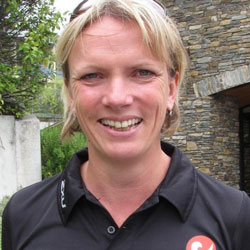 The woman behind the Challenge Wanaka Triathlon has been named New Zealand's Events Professional of the Year. Victoria Murray-Orr has headed the Wanaka Triathlon for the past nine years.
Challenge Wanaka is New Zealand's largest long-distance triathlon festival, involving more than 2,500 people of all ages and abilities each February.
In accepting the award, Murray-Orr said: "Running a successful event can never be down to just one person. It involves a whole team, with diverse skills, working towards one common goal – and keeping calm if the unexpected happens. The role of a good event professional is to offer the team clear direction and leadership. And it's about putting yourself in the participants' shoes to really understand what they want and need to ensure they have a great event."
---
"I feel so fortunate to have had such an amazing opportunity. Nine years ago I was asked to help a small triathlon in Wanaka with just 60 competitors. Now, Challenge Wanaka is an internationally recognized event, an integral part of the local community and involves over 2,500 athletes, 650 volunteers and millions of viewers around the world."
---
This year's 10th anniversary of Challenge Wanaka was Murray-Orr's last as race director. She now works for Perception PR and Marketing in Christchurch. However, she remains on the board of the Challenge Wanaka Sports Trust and will continue to be involved in the event in a marketing and PR capacity.
Challenge Wanaka Triathlon 2017 takes place February 18 next year over the full (226km) and half (113km) distances. For further information and entry details: www.challenge-wanaka.com.
---