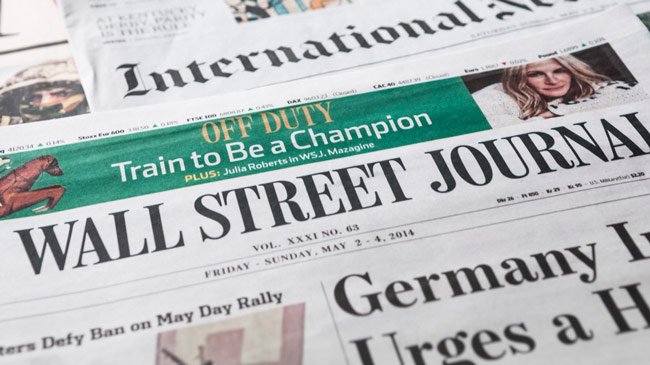 NEW YORK, Today: As Bauer Media cold-bloodedly gives up on NZ – The Wall Street Journal and Barron's Group are countering the Covid-19 effect by giving potential clients an additional incentive to advertise in their print pages.
The two News Corp-owned publications will offer an unusual guarantee to print advertisers who take out an ad between April 1 and June 30, the company is telling clients.
The ad must achieve at least a 70% recall rate, a benchmark measured by Research and Analysis of Media, a third-party international research firm. If it doesn't, those advertisers will be offered the same-size ad and placement for free within two weeks of the original ad's run date.
"I want to do something that's meaningful and benefits as many partners as possible, but is simple," said Josh Stinchcomb, global chief revenue officer of The Wall Street Journal and Barron's Group.
"We need solutions right now that can actually move the needle for them from a business perspective, a straightforward offer without any complexity and nuance to complicate it.
Stinchcomb said while the Journal's journalism has been "rich in attention", he wants to replicate this for advertisers."
Omnicom Media Group MD Steven Bloom said: "Any type of meaningful guarantee that affirms our decisions by proving out positive ROI and favourable brand lift helps showcase the power of the medium and validates the investments that we make for our clients.
---
"All eyes are currently on the news, and that attention can be 'passed on' to advertisers."
---
"Publishers have seen a surge in traffic as the coronavirus has taken hold in the US, but media organisations have also been left grappling with how to monetise it in a way that is brand-safe for advertisers.
Advertising forecasts look grim for the rest of the year, according to the most recent forecast from IPG Mediabrands-owned Magna Global, with full-year ad sales predicted to decrease by 2.8% across all media. Print advertising, in particular, will be hit hard and is expected to see a 25% loss in ad sales compared to last year, instead of a 17% loss that the firm had projected before the coronavirus.
"[Brands] need confidence and assurances that this money will be well spent. If I can allow them to invest in more confidence, it's a value add that I can bring," Stinchcomb said.
Ad rates for the Journal vary, especially if the advertiser is contracted. A standard, full-page, black-and-white ad cost $277,200 last year, according to a 2019 rate base.
The new ad guarantee, which will be available to new partners and previous advertisers, marks the first time the Journal has offered something like this, at this scale, in recent memory.
"I'm putting some skin in the game and setting a bar that's high for us," Stinchcomb said. "This isn't meaningful unless I put some in the game."
Epica's spin
"It's interesting that a financial newspaper should come up with one of the first viable solutions to the revenue problem that we've seen," said Epica's Paris-based owner (and regular M+AD commentator) Mark Tungate. "We like Josh Stinchcomb's argument that all eyes are currently on the news, and that attention can be 'passed on' to advertisers.
---