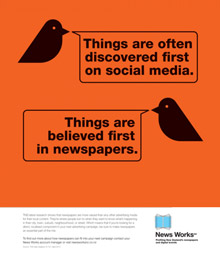 News Works' Ad of the Month creative ad competition has expanded to accept entries from newspaper digital ads, as well as newspaper print ads.
Along with this extension to recognise excellence in digital creative advertising, News Works is also jackpotting the monthly cash prize (of $250 cash) if no winners are selected to the following month – meaning there will be $500 cash prize pool for June's Ad of the Month after no winners were awarded for May.
News Works has been running the monthly awards for the past nine years, which are aimed at improving and inspiring advertising creativity in NZ newspapers and setting the challenge for creative agencies to produce outstanding newspaper advertising.
Marketing Manager for News Works, Sarah Ferbrache, says with newspapers brands so prevalent across multi-media platforms the decision was natural to open up the monthly creative advertising challenge to also recognise great examples of digital creative.
"Newspaper brands are as strong online as they are in print," she said. "Our mission is to champion these incredibly powerful news brands and promote the strength of their offerings across multiple platforms.
"Celebrating excellence in creative advertising run on any of our newspaper websites or apps, as well as print editions, is merely a nod to the continued progress and growth of news brands across multi-media platforms.
"We are keen to see clever, effective creative making the most of the trusted news brand environment and engaged audiences – as well as taking into consideration the medium the advertising message will be connecting on – whether that be print, online or via an app."
From this month, News Works' Ad of the Month awards will be open to any ad that has appeared on a New Zealand newspaper website or app, or in any print edition. Both digital and print entries will vie together for the best monthly accolade, with only one individual ad to be selected top each month – although judges may give special mentions to a number of exceptional ads.
The awards are judged each month by a revolving panel of NZ creative directors and senior creatives.
Every monthly winner automatically goes through to the shortlist for the $10,000 Newspaper Ad of the Year, which will be announced at News Works' annual awards in October.
Judging criteria includes quality of the creative idea, use of the medium (which will now take into account which medium is used) and relevance to the reader.
Last March News Works' inaugural Agency League competition was launched to run in conjunction with Ad of the Month, with the very first league winners – Ogilvy – being announced earlier this year.
Agency League is currently taking a break in order to time in with the Newspaper Ad of the Year awards period, and will start up again from next month.
Agencies received five points on the Agency League table for an Ad of the Month win, and one point for a special mention. The Agency League table and standings will also be expanded to incorporate any wins or special mentions by digital ads.
To enter digital or print ads in Ad of the Month – and from next month – be on the Agency League Season 2 table, creatives and agencies should go to here.
Jackpotted cash prize pools and Ad of the Month winners will be updated regularly on newsworksnz.co.nz.
Further information and details on how to enter this year's Newspaper Ad of the Year Awards, including the $10,000 prize for the big one, will be announced later this month.
---