AUCKLAND, Today: NSPR is celebrating 10 years in business – since it was established by Niki Schuck in July 2008 – with the announcement of two new directors, Lynda Millward & Kate Barron.
Schuck says it's provided an opportunity to reflect on how far the business has come: "Looking back is not something I tend to focus on, but I never would have imaged this is where we'd be and it's a great feeling.
"It's a significant milestone and most importantly, we felt an opportunity to formally thank our clients, media and our business partners who have supported us, over the past decade.
"NSPR and guests gathered at the newly refurbished Rydges Rooftop Terrace on a stunning Auckland evening, where Malcolm Rands, long standing client [and motivator for Schuck] made a toast to the NSPR team.
"Guests were visibly moved by the beautiful waiata sung by client, Denise Norton who has recently returned home to New Zealand after 20-plus years singing internationally, based in Hamburg, Germany."
In a fitting touch, in lieu of gift bags for guests, NSPR donated $1500 to Hospice, their charity of choice since the business began.
---
"In lieu of gift bags for guests, NSPR donated $1500 to Hospice, their charity of choice since the business began."
---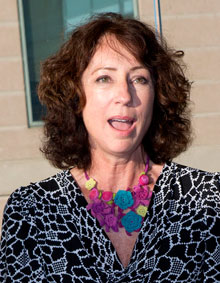 NSPR has won several new clients during the last 12 months including Keep New Zealand Beautiful, the Waiheke Walking Festival and Australian company Event Holdings PR in New Zealand (which includes Event Cinemas, Rydges and QT Hotels (Event Holdings is Sydney-based and headed by Jane Hastings, former NZME ceo in NZ).
NSPR also re-tendered and retained ecostore, one of its longest-standing clients.
This growth has meant expanding the NSPR team to include Jessica Griffin, who comes with 15 years' experience working in PR and communications in New Zealand, Australia and the UK, with several large corporations and public relations agencies, including IBM, IAG, EY and Citigate Dewe Rogerson.
"Jess has been a fantastic edition to the team, with her corporate expertise and strategic approach plus the energy and ideas she brings," says Niki Schuck.
In 2019 Amanda Steunenberg will join NSPR as a fulltime contractor, having interned for the company since June this year while completing the last year of her Bachelor of Communication Studies at AUT. She has also spent time studying overseas at Danish School of Media & Journalism.
"Amanda has impressed us immensely in the short time she has been with us from her social media skills through to her attitude and commitment," said Schuck.
Jade Hart has been contracting with NSPR on shorter termed projects while Nanette Stoddart has joined the Events arm of the business to support the work Millward is doing in this area.
---
Schuck worked from home when she initially started the business as a cost-saving measure but says there is no intention to set up a physical office, despite the growth.
"We all work from home, with some spending time at our clients' offices a couple of days a week depending on the arrangement," she said. "Being home-based provides flexibility to work the hours that best suit each individual, while also providing valuable quiet time for strategic thinking and planning.
"It also adds significant efficiencies which our clients benefit from, with uninterrupted focus and faster turnaround of work. With clients based all over New Zealand and in Australia and the advances in technology we see only advantages with our home-based model."
The business began as a public relations and communications business, adding talent management in 2011 and media buying and events with the expertise Millward and Kate Barron [a key M+AD contact] provided.
"Having Lynda and Kate as directors adds so much to the business – it's been one of the best commercial decisions I've made, while on a personal level I'm enjoying working on the business together. I'm excited about what the next 10 years will bring."
NSPR works with some of New Zealand's most loved celebrities on the talent management side of the business, as well as being trusted PR advisors for many businesses, entrepreneurs, charities, and not-for-profits. Clients are spread throughout New Zealand and Australia.
---