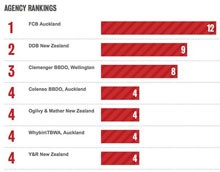 New Zealand was the eighth-ranked creative country in the world, according to Australia's Bestads rankings out of Campaign Brief (the rankings are based on global awards wins).
The USA was #1, followed by the UK, Brazil, Australia, France, Canada, Germany, New Zealand, South Africa, and the Netherlands.
NZ came 4th on the Bestads All-Time list for the decade to 2014. Again, the USA leads, followed by the UK, Australia, NZ, and France.
But there were no NZ or Australian winners in the global agency rankings list.The top 10 advertising agencies in the world in 2014 were.
The top agencies in NZ were: FCB, DDB, Clemenger BBDO, Colenso BBDO, Ogilvy, Whybin\TBWA and Y&R.
You can see all the details, plus the regional listings here.
---