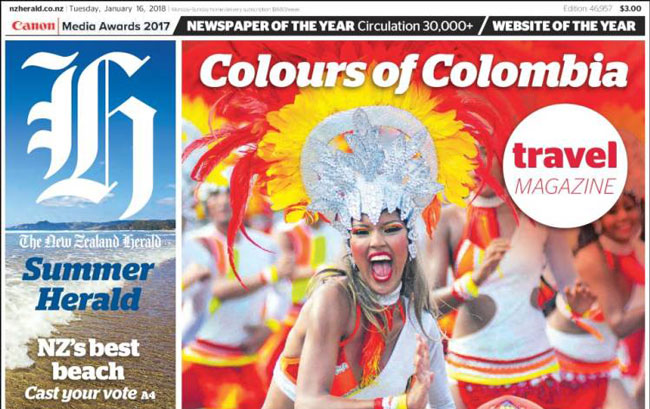 AUCKLAND, Today: The New Zealand Herald has seen an 8% increase year on year in readership to 453,000 print readers, with 806,000 print readers across a week, according to the latest Nielsen survey released this afternoon.
The Herald has maintained an engaged daily brand audience across digital and print of more than one million people, increasing 5% year on year to 1,050,000.
The weekly NZ Herald brand audience has grown 7% year on year to reach 1,669,000 people.
"Couple this with reaching 828,690 users on average each day on its main Facebook page during July to September with a 30.91% reach engagement rate, and the Herald's voice is really being heard," said editor Murray Kirkness.
For every day of the week (Monday to Saturday) print readership has increased vs the same period a year ago. With the exception of Thursday, all other days are up vs the previous period (Monday to Saturday).
The Herald on Sunday remains the best-read and top-selling Sunday newspaper in the country with 328,000 readers. The Herald on Sunday retains its position for the sixth period in a row, higher (says the Herald release) in readership than both Sunday News and Sunday Star Times combined.
"The Weekend Herald is still above half a million readers, gaining another 4000 this period for a total of 509,000; an increase of 32,000 from a year ago.
Weekend newspaper readers are also highly engaged, with people spending an average of 49 minutes with the Weekend Herald on Saturday and 43 minutes with the Herald on Sunday.
---
"Canvas, Timeout, The Business, Viva and Weekend have all increased readership or remained steady."
---
Canvas, Timeout, The Business, Viva and Weekend, the Herald's key magazines, have all increased their readership or remained steady on the previous period, and seen significant audience growth year on year.
Since the last release Canvas has grown its readers by 9000 to 297,000, and Weekend is now at 294,000, up 8000 readers.
NZME Regional daily newspapers reach 140,000 people on a given day, and 247,000 readers across a week.
Rotorua Post up
The Rotorua Daily Post in particular has increased its readership by 2000 to reach 15,000 on a typical day.
Kirkness says the Herald is a trusted source of news. "Engagement with the NZ Herald is strong, with readers continuing to engage with the brand after they have read their daily paper; they keep up to date on news, opinions and current affairs on the website, app and social platforms.
"In an era where there is a lot of misinformation, we are proud to bring clarity to what is happening in New Zealand and the world. Our readers trust us and we always endeavour to earn that trust."
NZME chief commercial officer Matt Headland says the engagement across the NZ Herald, magazines, regional titles and nzherald.co.nz give advertisers both reach and options to best deliver their message to various audiences.
"The different publication arms of NZME allow us to create integrated and engaging multi-platform campaigns, that can reach the masses or a regional town. When we combine our publications with NZME's radio and digital offering, it means we can deliver engagement beyond that of our competitors in a uniquely cohesive, strategic and successful way.
"Both our agency and direct commercial teams are skilled across multiple platforms to ensure advertisers are getting expert advice and strategies delivered to them."
---