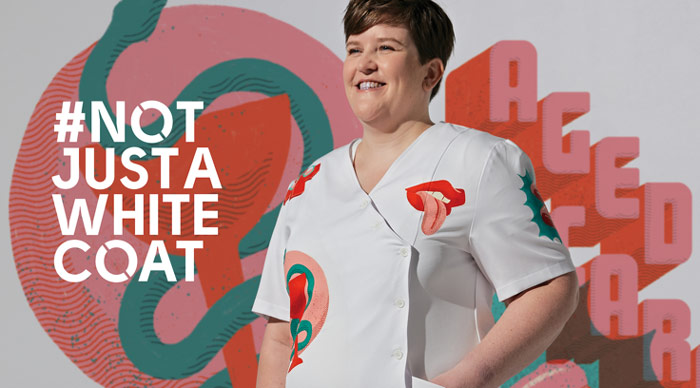 AUCKLAND, Today: Ogilvy in New Zealand has been using fashion to shift perceptions of where a pharmacy degree can take you – by creating a series of lab coats that pair local artists with Auckland University alumni.
The Facebook, Instagram and TikTok ads are live until early December and feature five Bachelor of Pharmacy alumni in eye-catching lab coats designed by five contemporary illustrators, accompanied by the hashtag #notjustawhitecoat
Ogilvy group creative director Nina East said: "Pharmacists play an important role in the health and wellbeing of Aotearoa yet year-on-year there are fewer people entering the field than the health system needs.
"There's a common misconception among prospective students that a pharmacist's role is simply dispensing medicines. The University of Auckland set out to tackle this head-on by celebrating some of our awesome pharmacists and demonstrating they are 'more than just a white coat'."
"#notjustawhitecoat is an unexpected fashion drop from the University of Auckland's Faculty of Medical and Health Sciences.
---
"We are already seeing an upswing in interest off the back of the Ogilvy campaign."
---
"We arranged for the illustrators to team up with UOA Bachelor of Pharmacy alumni to create a one-off capsule collection of lab coats. Each coat tells a different pharmacist's story, giving insight into the varied and important work they do, and aims to encourage high school students to consider pharmacy as a career."
The head of pharmacy in the Faculty of Medical & Health Sciences, Associate Prof Shane Scahill, says the campaign is "a breath of fresh air and really shows the many different careers a Bachelor of Pharmacy graduate can take".
"There is a huge demand for pharmacists in New Zealand and the Government has quite a focus on making sure they get full value from the pharmacist workforce. Pharmacy is a fascinating and very rewarding career path but we need more pharmacy students training to be pharmacists.
"Luckily we are already seeing an upswing in interest off the back of the Ogilvy campaign.
"There was tremendous interest at the recent faculty open day – the coats certainly pulled people in. We'd also very much like to thank the graduates and artists who took part – they had a lot of fun working on this unusual, but very effective, campaign."
View the videos below
---

CREDITS
Client: University of Auckland, Faculty of Medical and Health Sciences
Artists: Chippy, Marcus Watson, Zac Fay, Richard Parry, Bonnie Brown
Pharmacists: Junting Wei, Sarah Wilkinson, Stephen Choong, Darren Svirskis, Natalia Nu'u

Agency: Ogilvy New Zealand
ECD: Kristal Knight
Group Creative Director Nina East
Copywriter: Gal Stern
Art Director: Glenn Chapman
Studio: Ian Wood
GAD: Jennifer Dupen
Account Manager: Maddie Johnson
Photography and Video: Jake Dennis
Video Editor: Marzia Solarian
---