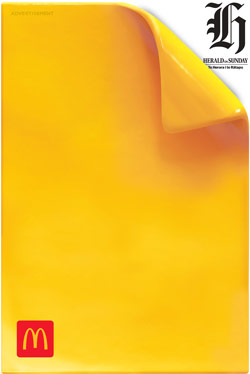 AUCKLAND, Wednesday: The winner of a NZME competition aimed at celebrating innovation and uniqueness in print advertising has been announced today, with media agency OMD taking out the top spot.
NZME's inaugural Imprint award has recognised OMD and McDonald's for their 'cheesy' takeover of The New Zealand Herald, in which a slice of McDonald's cheese covered the front page of the paper, striking readers and serving up a powerful hunger trigger.
The two at the head of this campaign – George Hulley and Juliet Robertson – will now join NZME's creative competition winners, Jordan Stent and Will Macdonald from Motion Sickness, on the greatest paper run of their lives in New York.
The trip includes five nights of exploring the very best that the Big Apple has to offer, including attending the annual, highly esteemed AdWeek event in New York. 
The 'Cheese' campaign was created by DDB and designed to be a striking celebration of one of McDonald's most famous ingredients, capturing readers and serving up a powerful hunger trigger.
NZME chief commercial officer Paul Hancox commended the high calibre of entries received: "They showcased the continued effectiveness and strength of print advertising," he said.
"Across all entries we saw impressively disruptive creative, displaying how print advertising can be reimagined to serve a diverse range of purposes. The entries showed just how versatile and effective the print medium continues to be.
---
"The judging panel featured well-known ad and marketing experts including the former ceo of BC&F Dentsu, Paul Catmur."
---
"As reflected in the winning advertisement, clever creative and smart placement can transform a page into a huge opportunity to connect with an audience and drive action. This advertisement proved the power of keeping things simple and demonstrated the immediate impact of successful design."
The judging panel featured a number of well-known advertising and marketing experts including Paul Catmur (founder and former CEO of BC&F Dentsu), writer and podcaster; Ally Young (Skinny brand lead Spark) and Carl Sarney –(head of strategy at TRA).
"We were very lucky to have such an experienced panel of judges, who know the craft of great advertising and marketing, and we thank them for their time and expertise," Hancox said.
The award judges praised the finalists: KFC's Lollipop and St John's The Hello Project. They also commended Steinlager's Unconditional Supporters, TAB's It's Football Time, World Visions' Turkey and Syria and Subaru's Spotlight.
Back in '24
Following the success of this year's competition, NZME has confirmed it will return in 2024.
---