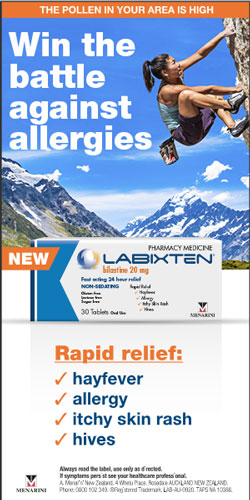 AUCKLAND, Thursday: Leading pharmaceutical company Menarini Group, working in collaboration with OMD NZ, has used an innovative media strategy for the launch of hayfever treatment Labixten.
The launch campaign used real-time pollen forecast data via MetService Pollen Data API to inform Kiwis when the pollen count was moderate or high in their area.
Menarini NZ senior brand manager Michael Pryor said: "Labixten is a critical launch for Menarini in New Zealand, and it is important we align ourselves with new media trends that allow contextually relevant content to drive our messaging to consumers.
"This campaign is a perfect example of that philosophy, as we seek to help consumers at their time of suffering."
The media strategy and execution was dependent on the real-time pollen forecast data across 47 regions in New Zealand, allowing digital media flighting, upweighting and message personalisation to be determined on-the-fly using external environmental factors. 
When pollen levels were low for a specific region, marketing did not target consumers in that area. Instead it pushed messaging to regions with high or moderate pollen levels for the day.
---
"We were excited to bring OMD's vision for Labixten to life."
---
The campaign was also able to apply machine learning against pollen forecasts data ahead of the week, thereby delivering better media efficiencies and improved consumer experience.
"We were excited to bring OMD's vision for Labixten to life," said Azriel Chan, senior programmatic strategist at OMD Programmatic NZ.
"Working closely with our software engineers, data scientists and solutions architects, we created a bespoke custom algorithmic bidding solution using external data signals to manipulate bid factors on-the-fly, driving demand in-stores while delivering media cut-through for Menarini.
"We are proud to be at the forefront of more tailored programmatic approaches, with help from Annalect, Metservice and The Trade Desk."
OMD senior account manager Genevieve Lawrence said: "In a cluttered market, it's imperative to reach consumers in the right place at the right time. By aligning with real-time pollen data, we reminded consumers that their symptoms were about to flare – and positioned Labixten as the solution to their suffering.
"Executing a strategy of this complexity requires extensive technical collaboration across data suppliers, trading desks and our client, Menarini."
---