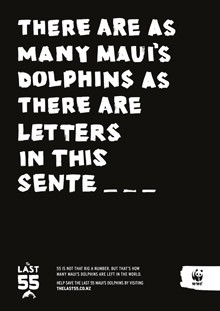 Ogilvy & Mather have again taken out the Newspaper Ad of the Month with their WWF Maui's Dolphin ad.
The judges all agreed it was a "good idea that packed a punch, with art direction that won't get lost".
Special Mentions were also awarded to Big Communications for their Selwyn Foundation ad; and Ogilvy & Mather with two of their Environment Protection Authority ads.
Judges were Andrew Davidson (Big Communications), Brad Stratton (Barnes, Catmur & Friends), and Phil Hickes (Saatchi & Saatchi).
The results mark the end of the Agency League hiatus period – which has been in play for the last three months in order to align Agency League annual season with the Ad of the Year awards period.
The second season of News Works Agency League starts again from Tuesday 1 July, with monthly ads being judged by top creatives.
Winners receive $250, and Agency League points for their agency are tallied on a League table to run from July 2014 to June 2015.
Ogilvy & Mather were the winners of the inaugural Agency League season, which wound up in March this year, following a gruelling 12-month battle between creative agencies.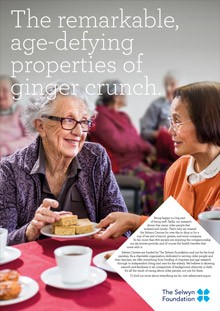 Recognising newspapers' evolution to multi-media news brands, Ad of the Month and Agency League has recently expanded to now accept entry from newspaper digital ads, as well as newspaper print ads.
Along with this extension to recognise excellence in digital creative advertising, News Works is also jackpotting the monthly cash prize (of $250 cash) if no winners are selected to the following month.
News Works' Ad of the Month and Agency League competition is open to any ad that has appeared on a New Zealand newspaper website or app, or in any print edition.
Both digital and print entries vie together for the best monthly accolade, with only one individual ad to be selected top each month – although judges may give special mentions to a number of exceptional ads.
Every monthly winner from 1 July 2013 to 30 June 2014 will automatically be entered into the $10,000 Newspaper Ad of the Year, with the winner being announced at News Works' annual awards on Thursday 2 October at the Sir Paul Reeves Building, AUT, Auckland.
To enter digital or print ads in Ad of the Month and gain points on the Agency League table, click here.
Further information and details on how to enter this year's Newspaper Ad of the Year Awards, including the $10,000 prize for the big one, can be found at here.
---
OGILVY & MATHER CREDITS
Communications Manager: Alex Smith
Executive Creative Director: Angus Hennah
Creative: Darran Wong Kam
Creative: Peter Wujkowski
Creative: Paul Kim
Creative: Jordan Dale
Designer: Manuel Payan
Typographer: Manuel Payan
Head of Planning: Adi Staite
Media Planner: Marie-Claire Manson
Group Account Director: Sandra Daniel
Senior Account Manager: Eduardo Hernandez
Account Manager: Neil Walker
---