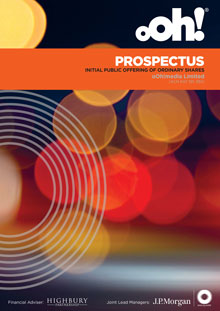 Australasian out-of-home media company oOh!media Limited (ASX: OML) has reported that it had grown strongly and exceeded forecasts across all key financial metrics in its first full year results since re-listing on the ASX. New Zealand: The report says the New Zealand side business delivered stable revenues when compared to 2013, despite the Auckland Airport contract expiring in the third quarter.
"The digitisation of our retail assets in New Zealand is a sharp focus this year," said ceo Brendon Cook. "We anticipate that our New Zealand revenues will experience an uplift in the future."
Key points – CY 2014
Pro forma revenue of $A260.8 million for the full year to 31 December 2014, up 7.1% on the previous corresponding period (pcp) and up 1.0% on the forecast in the IPO Prospectus.
Pro forma EBITDA of $A42.1 million, up 27.9% on the pcp and 4.7% ahead of the Prospectus forecast.
Pro forma Adjusted NPAT of $A18.2 million up 222.3%on the pcp and 4.0% ahead of the Prospectus forecast.
Digital revenues continue to outperform, with the percentage of total pro forma revenue reaching 23.2%, against Prospectus forecast of 22.0% and the prior year of 16.9%.
Strong balance sheet position – ending 2014 with 1.5x Net Debt to 2014 Pro Forma EBITDA.
The Board reconfirms pro forma CY2015 forecast of $A266.4 million revenue, $A48.6 million EBITDA and $22.2 million Adjusted NPAT.
Cook said the company had delivered strong revenue growth – delivering a better than anticipated EBITDA and Adjusted NPAT.
"While most traditional media businesses are experiencing a decline in relevance, audiences and revenues as a result of the media landscape fragmenting, oOh! is one of the few that is bucking the trend," he said.
"Our core asset mix of static and digital roadside billboards, and portfolio of advertising panels in shopping centres, airports and other key out-of-home environments continue to perform strongly as they reach a growing audience across both metropolitan and regional areas.
"On top of this our new digital out-of-home media strategy and offerings have helped us further increase our share of the $A13.4 billion spent on advertising in Australia in 2014, by delivering advertisers more creative engagement opportunities with consumers nationally and therefore broaden the out-of-home campaign capability.
"Through our investment in digitisation and innovation, we have changed the face of one of the oldest advertising mediums through delivering dynamic and interactive media platforms for advertisers to engage with customers.
"It has also enabled us to increase the yield from our assets by providing time-sensitive advertising opportunities such as "sale" or "limited time" offers that the out-of-home industry previously could not provide.
"This has seen us not only continue to be the market leader in Australia's fastest growing traditional media segment, but also lead the market in digital revenues. Digital now represents almost a quarter of our revenue, which is well above the industry average, and we forecast that within three years digital will contribute half of our revenue."
The 2015 focus, as per the Prospectus is the digital strategy roll-out which will see the company digitise marquee large format billboards in addition to further rolling out digital assets across key retail centre locations in Australia.
"The company is on track to continue delivering growth and achieve on our Prospectus pro forma forecast revenue of $266.4m, EBITDA of $48.6m for CY2015," he said.
---