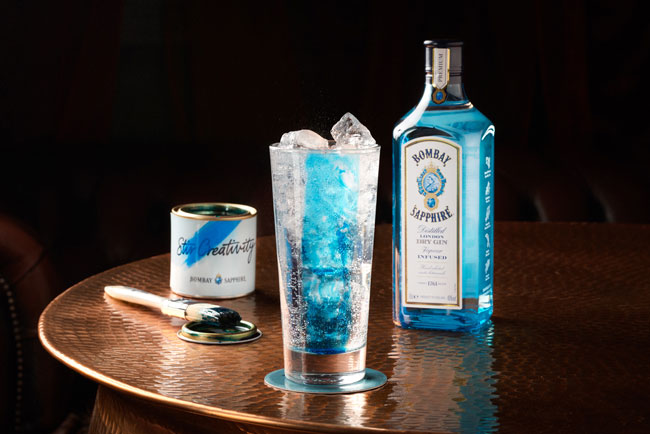 AUCKLAND, Today: Integrated creative agency Crave Global has created a summer brand awareness drive for Bombay Sapphire that encourages consumers to explore their inner creativity.
The Creations Worth Naming campaign inspires gin fans to invent and name their own signature G&Ts, using a selection of carefully chosen garnishes and flavoured East Imperial tonics.  
Activations include the transformation of The Glass Goose in the CBD and Bedford Soda & Liquor in Ponsonby into beautiful urban Bombay Sapphire-inspired retreats, to put a new twist on the gin garden.
Additionally, both bars will offer three mouth-watering Bombay and Tonic serves, designed exclusively by expert mixologist Frankie Walker.
Those attending the pop-up gin gardens between now and 20 December will also have the opportunity to try Bombay Sapphire's distinctive blue, edible gin-infused paint, with both bars confirmed as the very first stockists.
---
"both bars will offer three mouth-watering Bombay & Tonic serves, designed exclusively by expert mixologist Frankie Walker."
---
Crave Global MD Daniel Hopkirk said: "Gin is hugely popular right now, however, it is a competitive market with lots of brands vying for the attention of NZ gin fans.
"We have relished the opportunity to work with Nicola Fenwick and her team at Lion to encourage drinkers to curate their very own signature Bombay Sapphire & Tonic creations to assist in driving brand love through creative ownership.
"We are confident that Auckland gin lovers will rise to the challenge and invent some fantastic concoctions that are so good, they are worth naming."
Bombay Sapphire senior brand manager Nicola Fenwick said: "Bombay Sapphire is a distinctive, premium brand with creativity at its heart, and this campaign really taps into that.
"We were excited by Crave Global's response to the brief, which tasks consumers with becoming the creator. The Creations Worth Naming campaign is a celebration of creativity and we hope that experimenting with our edible paint and exotic garnishes will engage gin lovers this summer in a fun and unique way."
What: Bombay Sapphire Gin Gardens
Where: The Glass Goose, 78 Federal St, Auckland, and Bedford Soda & Liquor, Ponsonby Central
When: From Friday 8th November to Friday 20th December 2019

CREDITS
Agency: Crave Global
Managing Director: Daniel Hopkirk
Creative Director: Hadleigh Averill
Senior Account Director: Kat Day
Design & Digital Specialist: Zakk D'Larté
PR Manager: Lindsay Stanley
Client: Bombay Sapphire/Lion
Senior Brand Manager: Nicola Fenwick
Brand Manager: Alice McDermott
Commercial Director: Kane Stanford
About Crave Global
Crave Global was founded in 2016 by Daniel Hopkirk and Hadleigh Averill. The growing Ponsonby-based agency creates meaningful experiences and stories that connect, deliver reach, build community and drive results. Clients include Ports of Auckland, Lion and Ola.
About Bombay Sapphire
Bombay Sapphire – the world famous gin in its distinctive blue bottle. Every drop contains 10 hand-selected botanicals from exotic locations around the world. Our Master of Botanicals, Ivano Tonutti, doesn't just go the extra mile, he goes an extra thousand miles. He hand-selects the botanicals used in our gin and builds personal relationships with each grower. Once we've hand-selected the finest botanicals on earth, there's no way we're then going to boil them. We gently vapour infuse them to capture their bright, vibrant flavours. Every one of our gins reflect our rigorous selection process and uncompromising approach to creating fresh, clean, bright flavours that are perfect for creating exceptional mixed drinks.
Bombay Sapphire NZ Facebook Page: #StirCreativityNZ
---