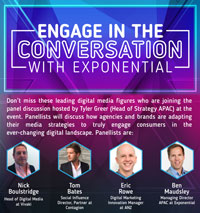 Auckland-based digital media exponent Exponential – an outpost of the global Exponential empire – is kicking off the party season tomorrow evening (Thursday) at Roxy Bar & Lounge in the CBD, with their APAC team flying in to join local colleagues, clients and media friends and partners for an opportunity to Engage in the Conversation with Exponential.
Attendees will hear from a line up of media luminaries before popping open the champagne to network and celebrate the year end at this invite-only event.
Fresh from New York's Ad Week 2015, Tyler Greer, head of APAC strategy for Exponential, will present Brand Success in the Age of Consumer Control, followed by a panel of New Zealand leaders in the digital media sector. Panellists include Vivaki head of digital Nick Boulstridge, Contagion social influence director/partner, ANZ digital marketing & innovations manager Tom Bates, and Exponential APAC managing director Ben Maudsley.
The panellists will be asked for their collective thoughts on how agencies and brands adapt media strategies to truly capture and engage their relative audiences in the current online climate.
"In our post digital transformation age, the pace of change can be overwhelming so we have found that thought-provoking events like our Engage in the Conversation series have been incredibly popular across APAC," said Maudsley.
"They offer an invaluable platform for crucial dialogue surrounding industry challenges, audience engagement, advertiser issues and the opportunities currently present in digital."
About Exponential
Exponential delivers innovative advertising experiences that transform the way brands interact with audiences across desktop and mobile. Exponential's platform fuses one of the largest global digital media footprints and proprietary data with user-centric ad formats designed to drive engagement and action. Creativity and audience insights form the foundation for building smarter, more relevant solutions for advertisers and publishers. Exponential was founded in 2001 and has locations in 22 countries. For more information, please visit www.exponential.com.
---