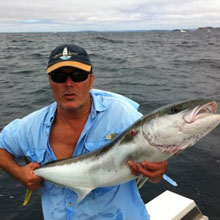 The Magazine Publishers Association (MPA) is delighted to announce that Paul Catmur of Barnes, Catmur & Friends is speaker at THE MAG SESSIONS on 2 October.
On the afternoon of Thursday 2 October, the creative managing partner of
Barnes, Catmur & Friends Creative Partner (and fisherman of some renown) Paul Catmur will share his trademark views on "life, advertising and the ones that got away", at the Magazine Publishers Association's Mag Sessions in Auckland tomorrow (Thursday 2 October).
"So have mags got him hooked, or does he just throw them back?" asks the MPA Chloe Delamore. "Catmur is unwilling to say which side of the wharf he fishes, but promises to leave no page unturned during his presentation, which will take place at the swanky offices of Bauer Media on Wellesley St."
The event starts at 5pm and drinks and nibbles will be served throughout. Places are limited, says Delamore, "so get-in-quick."
Buy $15 tickets online at tickets.magazineawards.co.nz/products/mag-session-ticket.
---