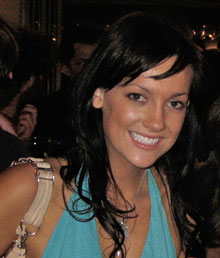 Whybin\TBWA CD Lisa Fedyszyn is already making a strong impression in her first stint as an executive juror on the New York Festivals Awards. "We're so excited that she is on board to judge the shortlisted entries, and that she will also lend her creative insights to our young creatives competition, the Torch Awards," NYF PR director Gayle Seminara Mandel told M+AD this morning.
And Fedyszyn told M+AD: "I'm expecting to find new thinking, new ideas and new opinions at NYF. And hopefully some great discussions with the fellow jurors on which ideas are award worthy.
She says also looking forward to talk to the young Torch creatives. "I've been fortunate to have encouragement and great advice from very talented and generous creative leaders throughout my career," she said.
"I'd love to pay it forward."
The executive jury, comprised of 24 chief creative officers, will meet together on one panel on May 15-19 to select higher award winners from the shortlisted winners
The 2015 New York Show panel discussions and networking events will take place on May 21 at NYIT Auditorium on Broadway. The New York Show gala cocktail party, awards ceremony, and after-party will be held that same evening in New York City.
Fedyszyn will also act as a judge on the New York Festivals Torch Awards, a competition for 18-25 year olds that allows them to create a campaign for a non-profit based on a brief. Fedyszyn will judge the five finalists from around the world who will come to New York to their pitch their campaign before the judges.
Fedyszyn's global rep is growing. She's already been tapped to sit on the jury for the London International Awards, being held in Las Vegas in October. And earlier this month, she and her joint CD partner Jonathan McMahon announced their resignation from Whybin\TBWA to further their careers abroad.
---