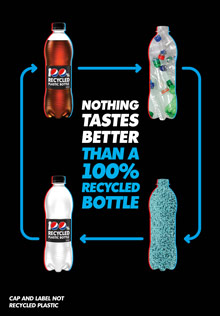 AUCKLAND, Today: Media agency OMD, creative shop Raydar, MediaWorks, and Frucor Suntory are encouraging consumers to think 'green' when making cola purchases with the release of a new media campaign.
The multi-channel campaign titled Nothing Tastes Better Than A… coincides with the launch of a new 600ml 100% recycled plastic (rPET) bottle across the NZ PepsiCo brand portfolio.
Running from May to June, the campaign will appear across EV bus networks, street posters with five selected sites featuring sustainable 3D special builds, and on The Edge and Mai FM via on-air, social and street activity.
OMD associate business director Charlotte Parker said: "The partners have ensured sustainability is at the forefront of the campaign with the hope to drive behaviour change while also minimising any environment footprint.
"We've hand-selected our partners based on how their business is making moves in the sustainability space."
"Mediaworks is working alongside city councils to forge a sustainable future with its EV bus network including Christchurch who is committed to converting 46% of its fleet to low emission by 2022 and Auckland to a full zero emission fleet by 2030.
"Street poster experts, Phantom, have secured 240 street posters nationwide along with five fully sustainable 3D special builds filled with empty Pepsi Max bottles in Auckland, Christchurch, Hamilton, Tauranga and Wellington.
"The frames, posters and special builds are all made from recycled products and 100% carbon neutral paper.
---
"We're able to bring a campaign to life that goes beyond a recycled bottle alone."
---
"By producing posters with Climate Active-certified carbon neutral paper, we have been able to offset 10 tonnes of greenhouse gas emissions just for this campaign.
"The team also saved over five tonnes of local office wastepaper from the local landfill."
"To generate talkability around sustainability, the launch will feature on-air and via social and street activity with Mai FM and The Edge. Street teams will take to the streets with the new 600ml Pepsi Max rPET bottles sampling outside special builds across New Zealand.
Frucor Suntory ceo Darren Fullerton said: "The transition to rPET is a huge commitment and one that we are proud to help deliver to New Zealanders at a time where sustainability and closing the loop is more important than ever before.
"As an organisation we are led by our Suntory vision 'Growing for Good' and we strongly believe we have a role to play in protecting the environment and supporting local communities to do the same.
"With striking visuals displayed across major New Zealand cities, the campaign aims to drive consideration and discussion amongst cola fans.
CharlotteParker: "When innovation and sustainability collide, we're able to bring a campaign to life that goes beyond a recycled bottle alone. It encourages our audience to think of the actions they can make to reduce the impact of waste on the environment."
CREDITS
Client: Frucor Suntory
Creative: Raydar
Media: OMD Auckland
PR: Anthem
About Frucor Suntory
Established 60 years ago, Frucor Suntory is one of Oceania's leading beverage manufacturers, employing over 1200 people in Auckland & Sydney. Our brands includeV Energy, Boss Coffee, Maximus, NZ Natural and Simply Squeezed. Since 1999, we partnered with PepsiCo to manufacture and distribute Pepsi, Pepsi Max, 7Up, Mountain Dew and Gatorade to the New Zealand market.
---