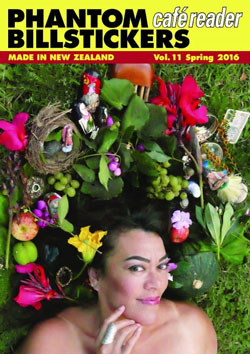 More famous for pasting posters on the nation's walls than publishing zines, Phantom Billstickers is celebrating the 11th edition of its quarterly 'street arts' publication, The Phantom Billstickers Café Reader.
"We're incredibly proud to provide a place where Kiwi poets, fiction writers, photographers, musicians, artists and reporters can tell their stories and explore their ideas," said Phantom GM Jamey Holloway.
"The Phantom Billstickers Café Reader is published quarterly and the latest issue comes to 88 pages, including some handpicked advertisers. It really is a labour of love."
Holloway says the magazine benefits from Phantom's unrivalled nationwide distribution network.
"We have trusted teams – who are employees, not contractors – in pretty much every town in New Zealand. When they're not pasting up street poster campaigns for our clients, they're targeting local cafés, book shops and record stores with a big box of Café Readers.
"Local businesses love having a high quality magazine that's free for customers. And café customers enjoy a great read, with a taste of New Zealand culture."
The company produces 12,000 copies and manages to distribute every last one. "There are no boxes sitting around the office or going to landfill," says Holloway.
M+AD ed David Gapes said: "We have enthusiastically supported this brilliant print mag from Day 1 – it is an inspiration to us all."
Edited by David Eggleton, the latest issue features a major interview with Shayne Carter of Straitjacket Fits, new poems by Tusiata Avia and Bill Direen, and new fiction, reportage and photography from a wide range of contributors.
Swipe your free copy from your local coffee bar, sushi shop, bookstore or artisan burger outlet. M+AD gets theirs from the Ponsonby Snooker Centre – where us old rockers hang out.
---