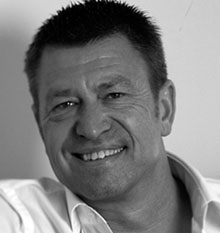 After 25 successful years, Clemenger BBDO Executive Creative Director Philip "Duster" Andrew has decided 2015 is the time for new challenges. This week he announced to staff and clients that he will leave the agency in April.
Duster is one of the most accomplished and awarded leaders in this industry. His drive to defend, hero and believe in the creative industry in Wellington, has resulted in Clemenger BBDO producing consistently world-leading, effective, creative work for its clients.
"Clemenger BBDO Wellington has been a creative powerhouse of the Australasian group and BBDO Worldwide for decades.  Under Duster's creative leadership, the agency has consistently produced highly effective, award-winning work for its clients.  He will be sorely missed not only as a creative leader, but as the agency's cultural leader" says Jim Moser, CEO Clemenger Group New Zealand.
Duster said, "This is an exciting and relentless business, one where absolutely everything matters. There is something incredibly stimulating and addictive about it but like anything this much fun I'm sure it's not good for you long term. So during our sublime summer holiday I faced what I had been wondering and decided to kick the habit. The Agency is in great shape so the time just seemed right."
Brigid Alkema promoted to Executive Creative Director Clemenger BBDO Wellington replacing Duster while Brett Hoskin promoted to Executive Creative Director Proximity Wellington.  
Over the years, Duster has developed an impressive creative department in Wellington.  He has worked closely with Creative Director Brigid Alkema at Clemenger BBDO and Brett Hoskin at Proximity to lead the creative department.
Effective May 1st, Brigid Alkema becomes Executive Creative Director of Clemenger BBDO Wellington.  At the same time, Brett Hoskin becomes Executive Creative Director of Proximity Wellington.  Brigid will manage the Clemenger BBDO business and clients while Brett will manage the Proximity business and clients.  Together, they are a formidable team. Both are inspiring leaders within the agency and respected creative thinkers amongst clients and the industry.
"Putting aside his talent, Duster's a man with a big heart who cares about people; their lives and their careers. I'm only one of many he has mentored, there are hundreds all over the world who are where they are today because of his guidance" says Brigid Alkema.
Says Brett "Duster is like the Godfather of Wellington advertising, we're not just saying goodbye to a workmate but farewelling an institution".
Says Brigid "We've got a legacy to uphold, and with our team of incredibly talented people and clients, an exciting tomorrow ahead of us".
---