Kiwi business are being urged to hitch their marketing wagon to Pokemon Go. Writing a blog for the Marketing Association, Karine Tan says it's a case of keep up or get left behind.
Tan points to the amazing success of Pokemon Go: "Since its launch, Pokémon GO has become an instant hit worldwide, dominating mobile app store charts and is the fastest mobile game to reach 50 million downloads on the Google Play store in just 19 days.
"The game also earns over $10 million in daily revenue as of writing and if it is to be believed, Niantic developers have revealed in this year's San Diego Comic Con that they've only rolled out 10% of their plans for the game so really, this is just the beginning.
---
"There's no better time to leverage the game for your business than now," writes Tan.
---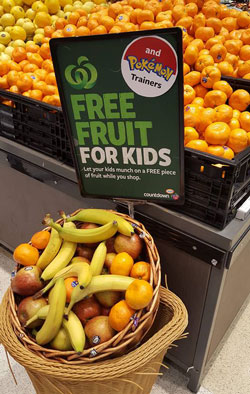 "Some businesses were quick to jump on the bandwagon and successfully leverage the app's success. Here in New Zealand, we've got Noel Leeming at Queen Street cashing in on the app being a battery hog, offering a 20% discount of power banks for Pokemon GO players (or 'trainers', as they call them) within the first week of the game's release (6th July).
"Local promotional products company, Verboom Badges and Tees, created a Facebook competition to give out a free Pokemon GO hat, drawing visitors to the store's page through the Facebook's 'Reactions' emoji voting system, garnering more than 1.7K 'Likes' and almost 1,000 participants.
"Even Countdown was offering free fruit to Pokemon GO trainers in their "Free Fruit for Kids" scheme as a way to engage with local children and encourage healthy eating habits.
"As Niantic continues to add new exciting features and updated functionality to the game, they also recognise its huge monetisation opportunity. They've started to support sponsorships such as McDonald's Japan who is the first paying sponsor of Pokemon GO.
They're hosting 3,000 of its outlets as Pokemon 'gyms' which are typically public places with high foot traffic. The logic is simple: a burger would very much appeal to the hungry Pokemon trainer who has spent hours Pokemon hunting outdoors.
"What does that mean for us marketers? We need to be reactive, creative, engaged with our market and constantly keep up with current trends and the fast changing technology landscape… or we'll get left behind," said Tan.
---