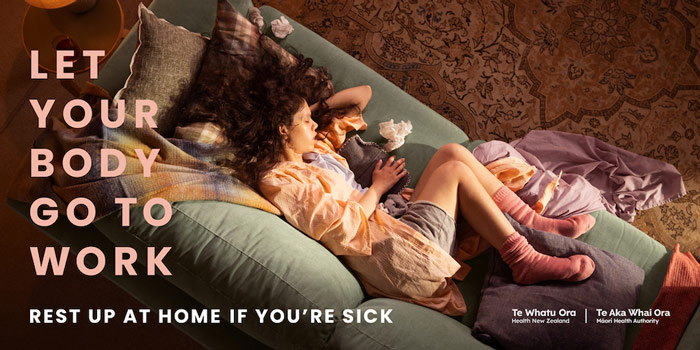 WELLINGTON, Thursday: Māori health authority Te Aka Whai Ora has launched a new campaign, Presenteeism, via Clemenger BBDO Wellington and Wellington/Rotorua comms agency Wawata Creative.
Clemenger BBDO chief creative officer Brigid Alkema said: Presenteeism is the cultural pressure that forces many of us to head to work when we're sick. Even though we're less productive, and more likely to pass the sickness on.
"It's estimated that presenteeism represents a far greater cost to businesses than sickness absence – including the ongoing reduced productivity that comes from workmates making each other sick.
"Despite this, there is still massive social pressure to 'turn up' no matter how sick you are. Ultimately, people feel too guilty or disempowered to take a sick day. And that's something Te Whatu Ora and Te Aka Whai Ora are setting out to change.
---
"Resting up and getting better can sometimes be the most productive workday of all."
---
"Let Your Body Go to Work introduces a new way to think about sickness. Empowering today's workforce with the insight that resting up and getting better can sometimes be the most productive workday of all.
"We're planting the seed that resting up at home isn't a cop out, even though you're stationary, your body's still working incredibly hard to heal. Respect it. Don't fight it."
Director Joel Kefali said: "I loved how still this spot could be. I wanted to create a world that felt a little more heightened and use our lighting and dressing to make the subjects feel heroic.
"There's that hazy brain-foggy dreaminess of being sick, so a bit of fever dreamy Heigh-ho fun helps capture that feeling, too."
Te Whatu Ora team lead Tamara Lovett said: "Those who are doing the good work at home by looking after themselves – and in turn, are looking after us all.
Creative Agencies: Clemenger BBDO Wellington and Wawata Creative

CREDITS
Production Company: Good Oil
Director: Joel Kefali
Editor: Luke Haigh
Composition: Cam Ballantyne, Beatworms
Photography: Steve Boniface, Match Photography
Media Agency: OMD
---