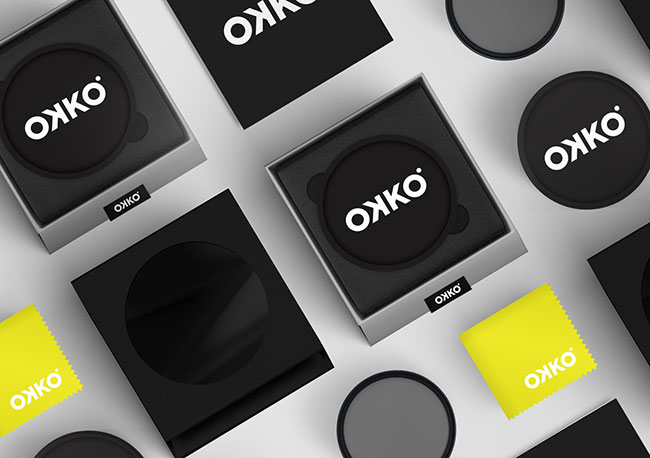 Strategy Creative Christchurch has been named as one of 130 winners at Communication Arts magazine's annual awards for its work on Okko, a New Zealand company that specialises in shipping European professional camera filters to worldwide clients.
Communication Arts exists – for obvious reasons – only as a print title. It's a bi-monthly that was founded in 1959 and has become the largest creative magazine in the world, and the leading trade journal for visual communications. It's based in Menlo Park, California.
Okko owner Simon Apperley is a camera enthusiast who became so tired of having to buy expensive replacement filters whenever his broke, that he created his own camera filter company, with a lifetime warranty on all products.
Okko ships free to anywhere in the world, through their website – www.okkopro.com
Strategy developed a full brand identity for Okko Filters last year, bringing to life the vision of Apperley, in a bold and striking way, says agency lead creative on the project, Eddy Davies.
"The stylised type and eye-catching yellow have become instantly recognisable and are aiding to the growing  success of Okko Filters."
The  work has been chosen as one of the winners of Communication Arts' 59th annual design competition and will feature in the September/October 2018 issue of the Communication Arts professional design journal.
---
"Having Okko recognised on a platform as large as this is amazing. I couldn't be happier with the work done by Strategy."
---
"Comm Arts only select the best. So, it is a great honour to have been selected by them," says Eddy Davies.
"It's amazing that our work has been recognised once again. It's testament that we are crafting world-class design and branding work that can compete on any stage in the world."
Strategy's work on Okko features alongside 130 others, out of almost 4000 projects that were submitted by designers from around the world.
Strategy Christchurch managing partner Nick Harvey says this recognition could have never been achieved without the trust and openness shown by Simon throughout the project.
"Simon was a dream to work with. He knew what he wanted the brand to represent, but allowed the team to capture that vision and explore the best way to communicate it visually, without limitations."
Apperley returns the compliment: "Having Okko recognised on a platform as large as this is amazing. I couldn't be happier with the work done by Strategy."
The work is one of only eight other winners in the trademark category. Strategy was also shortlisted for their work on Clouston & Co wine packaging.
About Strategy Creative
Strategy Creative is an international network of boutique agencies producing award-winning design and advertising around the world. The group was founded in 1992 in Christchurch and now has studios in Christchurch, Wellington, Auckland, Sydney and Tokyo. For further information, contact Geoff  Cranko on +64 21 710 355 or at geoff.cranko@strategycreative.com
---