MDS AdSchool CD Kate Humphries is worried, and she has a question for the agency community: "Did you get your invite to our end-of-year show next Tuesday?"
"The invites went out on Wednesday and we've since heard that, despite coming up with what we thought was a foolproof way of getting the invites onto your desk, a few senior creatives and one creative director haven't received theirs.
"So please accept this online version [below] and know that we'll be eagerly anticipating the tread of your feet on those stairs at Mexico come 6pm next Tuesday.
---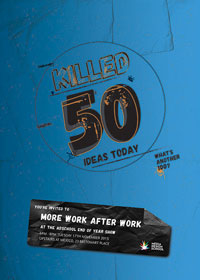 "Our students kicked off the year by winning three finalist places in the Cannes Future Lions competition (run by AKQA in London); they went onto win both the Student Newspaper Campaign of the year & Student Topical Ad of the Year: they won gold, silver and bronze at the international Crowbar Student Awards; two teams were shortlisted for Student Axis next year; two more teams have had their future of payment ideas put into R&D by Visa; and this afternoon a team flies out to Sydney after winning a coveted spot  at tomorrow's D&AD New Blood workshop.
"But next Tuesday folks, it's time to hand them over to you at our end-of-year show, which this year will upstairs at Mexico, 23 Britomart Place. It kicks of at 6 and goes onto 8.30ish. 10 teams, 10 books, free drink, free food and hopefully, a balmy evening down Mexico way."
Readers without invites should print out the one at the bottom of this page.
---