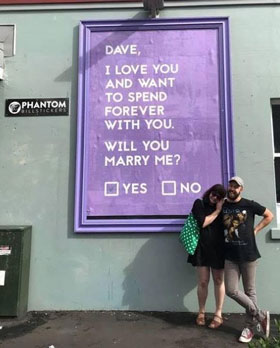 GREY LYNN, Wednesday: We've all seen those big, bold marriage proposals in movies: the couple are at a basketball game when the question appears on the big screen and the crowd cheers with joy.
Or maybe it's written in the sky as a pair share a romantic picnic and a plane flies overhead, puffing a "Marry me Sharon" above the city.
In the real world, however, you don't often hear about such grand romantic gestures. And while it is 2018, women proposing to men is also still considered reasonably unique.
But yesterday, Auckland woman Grace Maguire, 29, decided to step things up with her boyfriend, Dave McMahon, by printing a marriage proposal on a big purple billboard in Grey Lynn (a Super poster at the corner of Tutanekai and Richmond).
The answer from her impressed partner of a little over a year was a massive yes! It impressed folk on the other side of the world, too (scroll down to the link with the Scottish coverage).
Grace's friends say her bold proposal was Grace's friends say her bold proposal was "such a Grace thing to do".
Scottish born Dave and Mt Eden local Grace met last September through mutual friends and it didn't take long for Grace to realise Dave was the one for her.
She didn't go into the proposal blind, however. Dave had dropped a few hints that her asking him might be a cool idea, but it was something Grace originally shunned.
"At first I thought, no, I want to be proposed to," Grace told the NZ Herald. "But as I thought about it more I realised I could plan something really great.
"Just because society says it's the role of the man to propose, doesn't mean that is what we have to do. There are lots of traditions that we take for granted, but we like to challenge gender roles in other aspects of our relationship, so why not here, too?"
After a courtesy conversation with both sets of parents, so they could later share in the celebrations, Grace sprang into action with her plan, enlisting the help of Phantom Billstickers to help carry out her big purple proposal.
---
"You don't often hear about such grand romantic gestures. And women proposing to men is also still considered reasonably unique."
---
"I was familiar with Phantom from work with arts organisations. I had a vivid memory of seeing Jacinda Ardern standing by a massive billboard of her face during the 2016 election. I knew Dave would be stoked with a big bold statement. And he was!"
Grace had to figure out a casual way to get Dave in front of their billboard, on the corner of Richmond Rd in Grey Lynn.
"I told Dave there was a cafe that I wanted us to go to for breakfast," says Grace, suggesting a walk after their meal. "I couldn't stomach my breakfast because I was too nervous and only ate a few bites."
Afterwards, the couple took a stroll, Grace leading the way. As they came around a corner, the billboard was revealed: "Dave, I love you and want to spend forever with you. Will you marry me?"
Below the text were the words "Yes" or "No" with a tick box beside each.
"I gave him a paint marker to hold. He didn't notice the billboard so when we were right in front of it I pointed to it. He said 'yes' straight away and ticked the 'yes' box," Grace recalls.
As for Dave, he says he had no inkling as to what was about to happen, but could sense Grace's nerves: "At this point I'm trying to figure out what's going on, and she pointed at the poster. "It took me a few seconds to comprehend, after which I said yes straight away – I had to put her out of her misery!"
Grace then slipped a silver ring on Dave's finger, which she'd handmade at a jewellery-making class earlier in the year. As luck would have it, it was the perfect fit.
While those close to the pair have been impressed by the unique proposal, Grace's friend's weren't completely surprised.
"Some of my friends have said, 'this is such a Grace thing to do'. It is so nice everyone is really happy for us and impressed with such a bold move."
Grace indeed thought of everything: The day she chose to propose to Dave is also her parents' 35th wedding anniversary, so celebrations over dinner last night were extra special for their families.
More here …
---