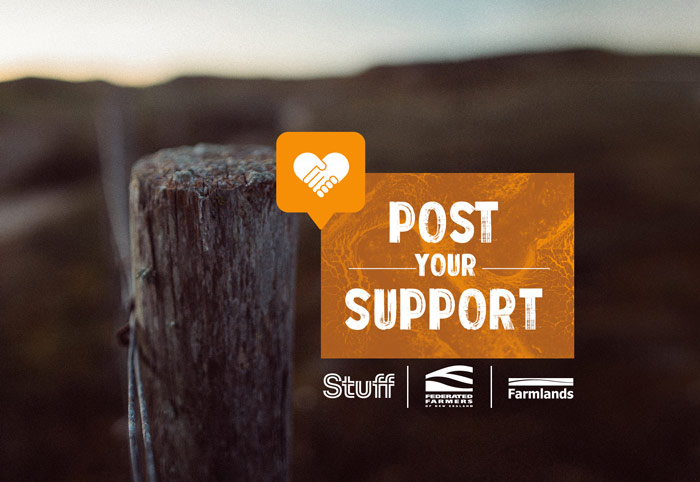 AUCKLAND, Today: In partnership with Federated Farmers and Stuff, Farmlands has launched Post Your Support as a way to directly help those whose livelihoods have been impacted by the cyclone.
Developed with the support of specialist strategic marketing agency Quantum Jump, Post Your Support aims to help cyclone-impacted farmers and growers get back on their feet.
Quantum Jump ceo Ben Goodale said: "The quicker fencing is sorted, the quicker essential agriculture and horticulture businesses can resume their normal mahi.
"Anyone can contribute by buying a fencepost at Farmlands for $20 which will be used to support the enormous challenge to re-fence tens of thousands of kilometres of farmland. 
"Farmlands has kicked the fund off with $225,000 from its Cyclone Gabrielle Response Fund and Federated Farmers has contributed $150,000. Stuff is putting in $80,000 worth of media coverage.
"Post Your Support is also already gaining support from across the sector with the Ministry for Primary Industries contributing $100,000 and Silver Fern Farms another $100,000.
"This means that the fund is launching with around $650,000 of funds already available – which will help support fence repairs or replacement posts for impacted communities.
---
"Every post counts – it's an incredibly big task these communities face."
---
"Given the tens of thousands of kilometres of new fencing that'll be needed, this is just the start of the support that will be require to rebuild and recover in rural New Zealand."
All the partners are bringing their own strengths to the effort.
Farmlands will be using its buying power and supplier relationships to make every $20 go as far as it possibly can.
Federated Farmers is mobilising the Farmy Army this weekend to start the mahi, and they're working to coordinate professional fencing contractors to continue over the longer term.
Stuff will be getting the message out there, sharing the stories, the wins and the generosity of the individuals and businesses that contribute.
Goodale: "Like all Kiwis, it's been overwhelming to see the damage Cyclone Gabrielle has wreaked on rural communities.
"For many of us having grown up or lived in these communities, we really wanted to be able to support in some way with our marketing skills.
"It was great to work with the Farmlands team to develop the identity for Post Your Support to quickly get the cause out there and support farmers and growers, and their livestock and crops.
"Every post counts, it's an incredibly big task these communities face."

CREDITS
Client: Farmlands
Programme Lead, Strategy and Performance: Renee DeLuca
Head of ESG & Sustainability: Charlotte Haycock
Head of Communications: Daniel Herd
Agency: Quantum Jump
Creative Partner: Wayne Pick
Creative Partner: Drew Ayers
Digital: Justin Biddle
Senior Account Manager: Emma Rogers
CEO: Ben Goodale
About Quantum Jump
Quantum Jump is a specialist strategic marketing agency which offers heavy-duty thinking on marketing strategy, strategic creative for brand and retail, and data driven marketing including loyalty, CRM, CX, Marketing Automation and digital advertising.
---