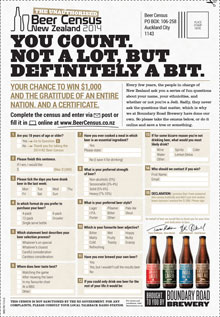 Barnes, Catmur & Friends have won August's Newspaper Ad of the Month with their Boundary Road Brewery Beer Census ad.
"This ad demonstrates good use of the medium with a topical link to the current political activity," the judges said. "The agency managed to turn something 'dry' – such as a survey – into a humorous way to advertise beer, with good little snippets throughout the ad from the headline to the declaration."
This month's judges were Brett Colliver (Colenso BBDO) and Adam Barnes (DDB).
With this month's win, Barnes Catmur sits alongside last month's winner DDB at the top of the table.
Ad of the Month winners receive $250 and Agency League points for their agency, which are tallied on a league table to run from July 2014 to June 2015.
Recognising newspapers' evolution to multi-media news brands, Ad of the Month and Agency League has recently expanded to now accept entry from newspaper digital ads, as well as newspaper print ads.
Along with this extension to recognise excellence in digital creative advertising, News Works is also jackpotting the monthly cash prize (of $250 cash) if no winners are selected to the following month.
News Works' Ad of the Month and Agency League competition is open to any ad that has appeared on a New Zealand newspaper website or app, or in any print edition. Both digital and print entries vie together for the best monthly accolade, with only one individual ad to be selected top each month – although judges may give special mentions to a number of exceptional ads.
To enter digital or print ads in Ad of the Month and gain points on the Agency League table, go to www.newsworksnz.co.nz/creative/ad-of-the-month/enter.
Every monthly winner from 1 July 2013 to 30 June 2014 will automatically be entered into the $10,000 Newspaper Ad of the Year, with the winner being announced at News Works' annual awards on Thursday 2 October at Sir Paul Reeves Building, AUT, Auckland. To register for your free ticket at this year's awards, go to www.newspaperawards.co.nz.
CREDITS
Executive Creative Director – Paul Catmur
Executive Creative Director – Daniel Barnes
Creative – Rob Longuet-Higgins & Rob Cook
Digital creative -Dylan Scott
Head of Account Service – Luke Farmer
Head of Digital – Greg Elisara
Studio – Alison Curtis
Senior Account Manager -Nicholas Gallagher
Media Director: Monica Wales
Media Buyer: Tara Pilisi
---