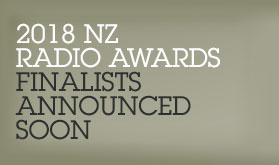 The 2018 NZ Radio Awards finalists will be announced this coming Tuesday 17 April at 9am via the NZ Radio Awards website. And, of course, M+AD Daily.
"The quality and range of entries this year has been outstanding and we have had the largest field of industry and independent judges in 2018 than ever before," said awards committee chairman Jana Rangooni.
"We have made significant changes to many categories and criteria in the last year – and the committee will be reviewing all of these again in the coming weeks and any feedback should be passed to us via your relevant representative on the committee or directly to Donna Bloxham to ensure it is tabled."
The 2018 NZ Radio Awards will be held at Shed 10 in Auckland on Thursday 10 May, and will be streamed on the awards website.
Rangooni said: "The cost and procedure to purchase tickets for finalists, network staff, independent stations and individuals will be advised at the end of next week and will be based on allocations similar to previous years."
For more information, contact:
---