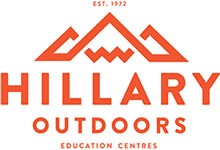 Colenso BBDO has helped to rebrand the organisation formerly known as (draw a deep breath) The Sir Edmund Hillary Outdoor Pursuits Centre of New Zealand. From today, the outdoor education centre named for our most famous explorer will be called simply Hillary Outdoors.
Hillary Outdoors chief executive Graham Seatter says the new name has been developed as a tribute to the organisation's former patron.
"Sir Edmund Hillary was a huge supporter of our programmes and we worked closely with him for more than 30 years – but our full name was too cumbersome, and over time the Hillary name was dropped from our everyday brand.
"We wanted to return to a brand that honoured Sir Edmund and his incredible contribution to the outdoors in New Zealand."
Colenso BBDO developed the brand concepts and Creative Chairman Nick Worthington says it was clear from the outset that the new name was a "stroke of genius".
"It's a competitive market, even in the world of outdoor education, and OPC was not top of mind," says Worthington. "Elevating the Hillary name, simple though it seems, will have a profound effect on the top of mind recall and recognition of the much loved but hard to remember brand."
With the new name a clear winner, Worthington says creating a logo and brand identity with Hillary at its heart was a simple exercise. "Capturing a timeless feel allowed us to harness both the richness of the past and a vision for the future," he said.
"The new name and logo now truly reflects the nature of Hillary Outdoors and its place in the hearts and lives of thousands of Kiwis over the last 40 years."
Seatter said: "We're delighted with our new brand and logo. Sir Edmund Hillary remains a huge inspiration to our team. His adventure, courage, perseverance, leadership and community-mindedness are attributes we strive towards in our programmes."
Sarah Hillary, speaking on behalf of the Hillary family, said: "It is a great honour to have the family name associated with the organisation.
"My father fully supported the Outdoor Pursuit Centre from the start, through his relationship with his friend Graeme Dingle. Hillary Outdoors aims to challenge and empower people by getting them into the natural environment, their programmes are very much in keeping with my father's philosophy on life."
Hillary Outdoors is short for Hillary Outdoors Education Centres, while the official business name is the Sir Edmund Hillary Outdoors Education Trust.
While the brand may be changing, everything else about Hillary Outdoors remains the same. "It's business as usual," says Seatter.  "We're excited about moving forward as Hillary Outdoors."
---