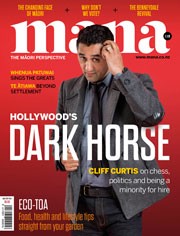 NZ Geographic publisher Kōwhai Media has repackaged and reinvigorated Mana magazine, and built a supporting website and app which streams stories from Mana and other Māori media outlets, bringing news and views with a Māori voice to a new digital channel.
"Māori are hungry for stories that reflect their unique perspective," says new Mana editor Leonie Hayden. "Everywhere we look, current events and modern culture are being shaped by tangata whenua.
"It was time for Mana to take a step into the future to keep apace with Māori media consumption. I'm looking forward to interacting with our audience on a number of platforms and introducing readers to a new generation of Māori voices."
Kowhai publisher James Frankham said: "It's an exciting space to work in, says publisher James Frankham. "The political, sporting, cultural and artistic life of the Māori community is vibrant and active, and Mana has a long and important influence," he says. "There are so many possibilities for telling new stories in new ways.
"The new team brings considerable experience with the production of premium magazines and, in particular, capability with digital platforms, including apps for iOS and Android."
The August/September issue of Mana features Cliff Curtis on the cover, with insights into his newest role in The Dark Horse. The issue is on sale today.
---