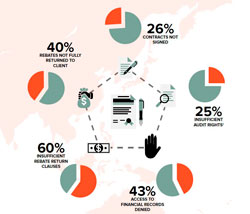 An analysis of 121 audits in the Asia-Pacific region – including NZ –reveals what auditor FirmDecisions calls "significant agency-advertiser risks".
According to FirmDecisions, 26% of advertisers in Asia-Pacific do not have signed contracts with their media agencies. And 25% of contracts do not allow sufficient audits.
"Some audit clauses have attempted to limit the scope of the audit, while agencies have also created separate entities whose transactions are not subject to audit," FirmDecisions reported.
The study was taken from the firm's 2015 audits across the whole region: Australia, New Zealand, Singapore, Thailand, Indonesia, Malaysia, Hong Kong, China, Japan, Korea, Philippines, Vietnam and Taiwan.
News of the report surfaced overnight in the Campaign Asia Pacific e-newsletter.
---