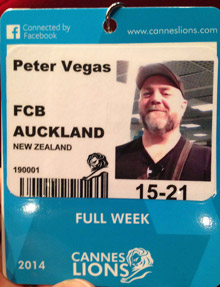 The French are no strangers to invasion. But they have managed to see off the advertising hordes for another year.
Planeloads of tired and emotional members of the communication forces are heading back to their barracks around the globe, with aching kidneys and heads buzzing with ideas about new ways to tell stories and engage consumers.
The last day was dominated by ageing rock star Bono, and his mate Sir Johnny Ive, the rock star designer from Apple.
It was in the same auditorium where I had heard Kanye's sermon earlier in the week and I was struck by the startling contrast between Mr Kardashian and the King of Ireland.
One man is using his star status to rid the world of AIDS, the other wants to save the masses from ugly by helping us get classy and understand good taste.
From where I am sitting, hung-over in my hotel room, that seems to sum up the whole Cannes festival for me. An intoxicating mix of polar opposites.
This small seaside town has been crammed full of ideas and their creators eager to share their opinions. Some have the power to make a difference and change the world, others seem to exist simply for you to stand around and be impressed by.
What both have in common is the passion behind their creation and you can't help but be inspired by that.
This is a big planet. I know, I'm facing 30 hours of travel to get home. So I think we live in a place where the Kanyes and Bonos both have a job to do.
And I'm gonna carry that insight with me when I go back to my job.
---