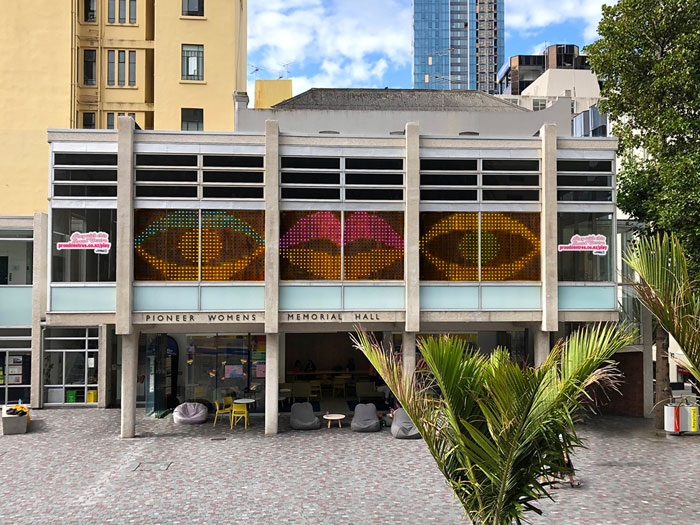 AUCKLAND, Today: Broadway-based independent NZ advertising & design agency Run is working to transform Auckland City's Ellen Melville Centre into a rainbow hub.
The interactive installation is to help the community celebrate Auckland Pride Festival 2020, while drawing attention to the Auckland Council initiative, Proud Centres.
Auckland Council arts & community chief Ella Mizrahi says she chose Run because of the depth and creativity they bring and were impressed with their experience and enthusiasm.
The activation is a series of interactive lights installed at the Ellen Melville Centre in Auckland City's High Street.
"Huge light panels are controlled by a web app, allowing users to choose a graphic, colour it, then send it to the centre's giant windows, where it will be animated in lights, overlooking Freyberg Square.
Run collaborated with Augmented Human Lab at Auckland Bioengineering Institute and Faculty of Creative Arts & Industries to make it all happen.
---
"I love Run's approach to briefs – unique creative solutions that always surprise and delight."
---
"We wanted to create an interactive solution, so people were drawn to interact with it, not just look or walk past," said Run co-founder/design director Laura Cibilich.
The graphics include winking eyes and kissing lips to give it a little cheekiness and personality, bringing in the fun flavour of the festival.
Mizrahi said: "We wanted to engage a wide variety of audiences throughout the festival, to connect with people while also making it accessible and fun.
"I've worked with Run a number of times and love their approach to briefs, they always surprise and delight and come up with such unique creative solutions."
Run CD Raymond McKay said: "The project is a nice way to support the rainbow community and also a cool project to kick off 2020."
This is the second project the agency has collaborated on with Augmented Human Lab founder/head Professor Suranga Nanayakkara – the first being novelty stress relief app BadGood, released at Techweek NZ last year.
The installation will be live for the month of February, with plans already underway to install it in other sites.

CREDITS
Client: Auckland Council
Agency: Run
Creative Director: Raymond McKay
Design Director: Laura Cibilich
Development: Augmented Human Lab at Auckland Bioengineering Institute – Professor Suranga Nanayakkara, Vipula Dissanayake, Samitha Elvitigala, Sachith Muthukumarana
Fabrication: Faculty of Creative Arts and Industries / Elam Workshops – Peter Cleveland, Robyn Walton
About Run
Run is a creative agency based in Newmarket, Auckland, focused on creating quality strategy and unique solutions to help build and grow businesses and organisations.
---