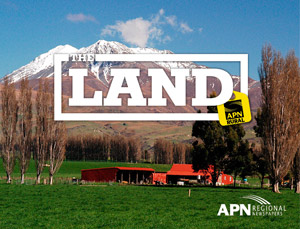 APN NZ Media has launched a new rural inserted publication, The Land, which will run within APN's stable of six regional newspapers on Thursdays.
The Land will streamline the rural content already available within APN's regional newspaper portfolio and aims to enhance it with nationally relevant insights and market data.
New content includes weekly columns from leading business news writer Fran O'Sullivan, and Newstalk ZB Farming Show host Dominic George, and will cover issues ranging from the economy, livestock and sustainable farming, through to B&Bs and eco-tourism.
Each of the regions will include their own unique content relevant to each local market, courtesy of the agriculture and horticulture journalists at each of the regional newspapers.
"The Land creates an opportunity for advertisers to reach APN's entire rural and regional audience of 242,000 readers across the North Island and be associated with relevant, quality content from a trusted news source," says APN regionals group gm Chris Jagusch.
The Land will be available weekly on Thursdays in the Northern Advocate, Bay of Plenty Times, The Daily Post, Hawkes Bay Today, Wanganui Chronicle, and the Wairarapa Times-Age – plus the weekly Te Awamutu Courier from Thursday 26 June.
---