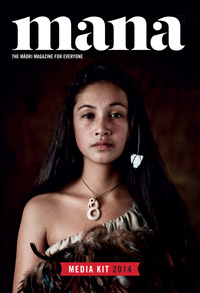 Mana magazine – published in-house since its inception in 1993 – has struck a licensing deal with NZ Geographic publisher Kowhai Media that will see the title undergo a major relaunch.
The first issue of Mana will come out on Monday 28 July. The move follows an undertaking from the title's founder Derek Fox to restructure the business to better cope with current economic pressures.
"Māori are hungry for stories that reflect their unique perspective," says Mana's new editor Leonie Hayden.
"Everywhere we look, current events and modern culture are being shaped by tangata whenua and it's important for us to be a part of the conversation. I'm looking forward to interacting with our audience on a number of platforms and introducing readers to a new generation of Māori voices."
"The new team brings considerable experience with the production of premium magazines and, in particular, capability with digital platforms, including apps for iOS and Android," says Kowhai publisher James Frankham.
"Māori are a youthful demographic with high social media connectivity making digital products of special relevance.
"It's an exciting space to work in. The political, sporting, cultural and artistic life of the Māori community is vibrant and active, and Mana has a long and important influence," he says. "There are so many possibilities for telling new stories in new ways."
The all-Māori editorial team promises to tell Māori stories "in a new and compelling way, summoning a chorus of Māori journalists, personalities, broadcasters and bloggers to contribute to a new-look magazine, website and apps".
"A new structure lends a richer, more compelling editorial environment and optimises advertising placement within the run of stories, while new paper stock and cover treatment creates a modern, more engaging look and feel," Frankham says.
"The magazine is also better connected to digital platforms, directing readers to video and audio on the website and apps, and shorter or more timely stories to stimulate the public conversation.
"With the new format comes new opportunities for advertisers to engage a Māori audience in new ways, wherever they are. The magazine sets the editorial standard for the relationship, featuring stories not published in any other outlet.
"But for the first time there are also content placement opportunities for advertisers and institutions with a story to tell. Like display advertising, these advertorial opportunities are also placed on the re-developed Mana website and across a forthcoming smartphone app for both iPhones and Android phones, to reach an entirely new market of young, connected Māori."
About Mana
Mana is read by more than 100,000 people, 68% of whom are Māori; 80% of readers are aged 20-59, a greater proportion than the national average, and half read every issue of the magazine.*
Mana provides a unique perspective on modern Māori life in a lavishly illustrated, easy-to-read style. Each bi-monthly issue brings a new mix of inspirational, informative stories and profiles of Māori in education, health, politics, business, the arts, sports and many other fields, both here and overseas.
NOTE: Mana magazine has no connection with the Mana Party, and has no political or iwi allegiance.
Ad inquiries to Warwick Petersen (advertising@mana.co.nz or 021 400-009).
All other inquires to James Frankham (james@mana.co.nz or 09 913-9623).
---