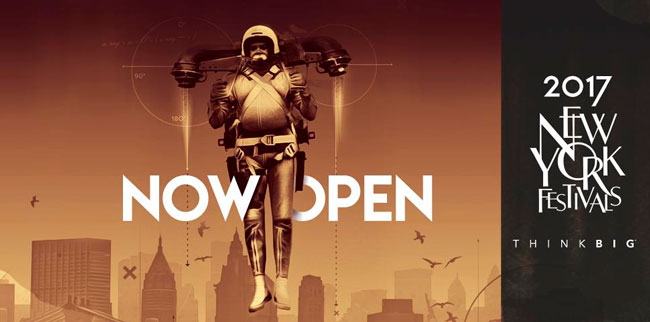 New York Festivals International Advertising Awards 2017 has issued its formal entry call. Entries for this creative competition submitted by Thursday 15 December 15 save 10% of their entry fees. The deadline is Tuesday 31 January.
The categories include: Activation/Engagement, Avant-Garde/Innovation, Branded Entertainment, Creative Marketing Effectiveness, Design, Digital, Direct & Collateral, Film & Film Craft, Integrated Media Campaign, Media, Mobile, Outdoor/Out of Home, Package & Product Design, Print, Public & Media Relations, Public Service Announcements, Radio, and Student.
Special awards include Best of Show, Global Brand of the Year, Global Agency Network of the Year, Regional Agency of the Year, Best New Agency of the Year, Boutique Agency of the Year, Independent Agency of the Year, and (launched in 2016) Best Commercial Film Director.
All entries are judged by 400+ members of New York Festivals executive and grand juries, a brains trust of global creative minds, who collectively cast over 400,000 votes to select the world's best advertising.
The 2017 executive jury – names announced in "coming weeks" – is an elite panel of 24+ high-level chief creative officers, who will meet together in New York April 7-11. They will select the winners from a shortlist selected by the grand jury during five days of live judging sessions.
---