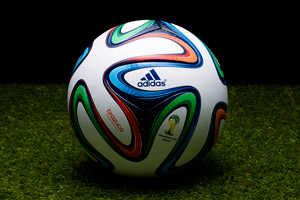 The 2014 Football World Cup, which kicked off in Brazil Friday morning, has already generated more social buzz than any comparable event ever.
London-based online ad service Warc reports that Adobe Digital Index (ADI) collected conversations from blogs, Facebook, Google+, Reddit, Twitter, Dailymotion, Flickr, Instagram, Tumblr, VK, Disqus, Foursquare, Metacafe, WordPress and YouTube, across 230 countries and territories.
Its analysis puts the World Cup ahead of the Super Bowl and the Winter Olympics in Sochi, with a total of 19m mentions in the past 12 months.
Most of the social buzz is coming from the APAC region (48% of related conversations) followed by Europe/Middle East/Africa (32%) and the Americas (20%).
Japan is far out in front, accounting for 37% of World Cup mentions. The UK is a distant second (11%), followed by Brazil (9%), Germany (8%) and the US (8%).
Other countries registering a figure included South Korea (4%), Indonesia (3%), France (3%), Spain (2%) and Nigeria (2%).
That picture alters again when considering specific platforms. On Twitter, for example, Germany was found to have the most active user base – the proportion of mentions to active users – at 17%. Then came Japan (11%), Nigeria (8%), France (5%) and the UK (5%).
Globally, the main sentiments being expressed were positive, led by admiration (27%), joy (22%) and anticipation (10%). There was, however, significant negative sentiment, including sadness (20%) and disgust (11%).
Brazilians themselves appeared less enthusiastic than the rest of the world, with 42% of the social buzz emanating from that country expressing sadness (36%), disgust (5%) or anger (1%), suggesting widespread concern at the high costs of hosting the tournament.
Joe Martin, an ADI analyst, said the data showed the value of social media to marketers. "Companies can see where in the world people are talking about them and what they are saying," he asserted.
Soccer or Football?
The report gives no figures for NZ, which is not surprising, given the relatively low level of interest in soccer in this country.
What is surprising is the NZ Herald's craven surrender to the gods of soccer, who have decreed the entire world must call their game "football". How will they ever make that stick in the US?
No problems here, though – the Herald even dedicated an editorial in a dodgy attempt to justify the unjustifiable.
Herald rugby columnist Chris Rattue – god bless him – typically ignored the order from above, and continues to call a spade a spade.
– Ed
---