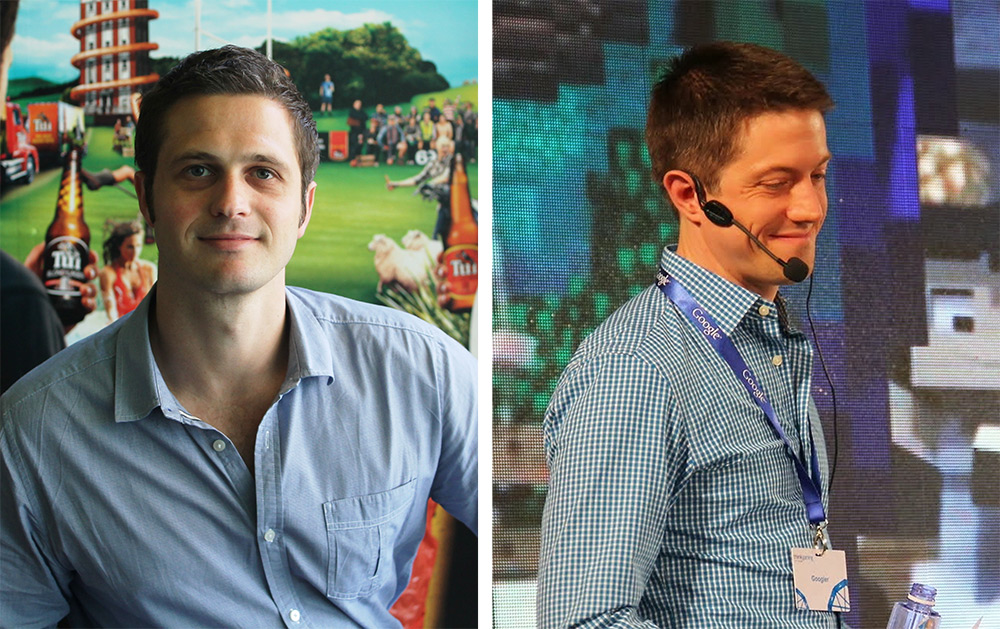 The impact of social media and content on the success of marketing campaigns will be explored in-depth next month at the first of this year's CAANZ Champion Speaker Series, #1 Social Creativity, in Auckland.
The breakfast event is being organised by PREScom (the CAANZ PR, Experiential & Social Media Committee), and will take place on Wednesday 14 May (7-9am) at Kensington Swan, 18 Viaduct Harbour Ave.
PREScom has tapped two regional industry leaders – Giles Tuck and William Papesch – to make presentations.
Giles Tuck is an illustrator, cartoonist, and games designer – and is now the Sydney-based creative lead at Google APAC's in-house creative agency.
William Papesch is Tui marketing manager at DB Breweries Auckland.
"This speaker event will both educate and inspire the audience about how social media, together with experiential and PR, can amplify creative ideas," said PREScom chair Megan Clark.
"Social is now a major player, but many brands and marcomms professionals are still getting to grips with the importance of the medium, not only as channel but in strategy development," she said.
Keynote speaker Giles Tuck is creative lead with The Zoo-APAC, Google's in-house creative agency which specialises in branding and technological innovation. Now celebrating his sixth year at Google, Tuck has been heavily involved in the development of the YouTube platform and more recently with mobile and wider social media activity.
Tuck's presentation 'Be Sociable – an introduction to tackling social media' will focus on the power of bold, creative ideas with 'social' at the heart, and more specifically the role of YouTube and live experiential integration in creating deeply engaging campaigns.
"Social media has transformed the relationship that consumers have with brands, products and services," says Tuck.
"The most innovative marketing and communications practitioners have for some time been developing their own content, building online communities and cross-pollinating with owned assets. I am looking forward to relaying my thoughts and experience relating to these trends."
Clark says the second speaker, Tui's William Papesch, will add a uniquely New Zealand perspective to the discussion.
Papesch (a key figure in Tui & Saatchi's acclaimed Beer Plumber PR/viral which scored 6 million hits on YouTube in October last year) said: "Understanding your consumer's journey through a campaign is vital. Social media is playing an increasingly important role, and combined with PR and experiential will stimulate greater consumer engagement and advocacy."
#1 Social Creativity costs $95+gst (for members of CAANZ, ANZA, MA, EMANZ and PRINZ); $125+gst for non-members.
Information and registration details #1 Social Creativity can be found here: http://www.eventfinder.co.nz/2014/champion-speaker-series-1-social-creativity/auckland.
THE PRESENTERS
Giles Tuck – Google/YouTube, Creative Lead – ZOO APAC
For almost three years Tuck's role was a senior creative with Google London, where he worked as part of the in-house design team supporting YouTube. This was followed by a move to Japan to help establish a new creative team in the region. He was based in Japan for close to two years before transferring again, to Australia. Now based out of Google Sydney, he is part of the creative team supporting YouTube and display advertising across Asia and Australia.
He originally trained as an animator and after college worked as an illustrator and cartoonist. His love of video games lead him into his role as a games designer where he worked on many high-profile licenses including three hugely successful Harry Potter titles. Prior to joining Google, he was a creative with TangoZebra, the in-house design and creative agency of DoubleClick.
William Papesch – Marketing Manager, Tui – DB Breweries 
During his time at Tui, Papesch has launched three Tui products and overseen the creation of 15 television commercials. He is responsible for the brand's sports leverage activity with the Hurricanes, Crusaders, NZ Cricket and several provincial rugby teams, and secured broadcast rights to the ITM Cup and the local sponsorship rights to the 2015 Cricket World Cup.
His work has been internationally recognised, with the Tui Beer Plumber campaign going viral globally last year. The stunt, which saw an unsuspecting lad having his entire house re-plumbed with Tui beer, has won numerous awards including two gold Axis Awards, a Yahoo Digital Awards Grand Prix, three AWARD medals, an 'In Book' at the D&AD Awards London and Merit at One Show New York.
Just six months after 'Beer Plumber', Tui and New Zealand Cricket were awarded Best Commercial Partnership at the New Zealand Sport and Recreation Awards for the 'Catch a Million' campaign, which ran this summer.
Papesch began his marketing career at the Sanitarium Health Food Company, working on Weet-Bix where was involved in the Kids Tryathlon and All-Blacks promotions. Prior to joining DB, Will worked as a Brand Manager at Hansells Food Group, playing a key role in growing the local food business into a global success. Here, Will developed and launched dozens of new products, and most notably a lead in growing the global oil brand, Alfa One, now New Zealand's largest cooking oil brand.