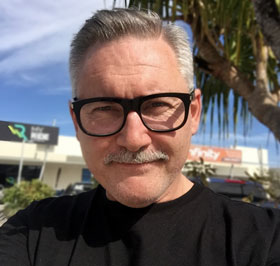 Transtasman shootists Eight (production offices in both Auckland & Sydney) have signed star Kiwi director Steve Saussey for representation in Australia, New Zealand and Asia.
His first spot for Eight via 303 MullenLowe Sydney went to air on Sunday night (scroll down for the link). 
Steve Saussey has been perfecting the craft of bringing humour to the screen for longer than he cares to reveal. He is a specialist in comedy performance with an emphasis on character – from the wry, subtle and awkward to the utterly ridiculous, and all the bits in between.
He's always looking for a way to make a funny script funnier whilst preserving the idea in the clearest possible way.  
His unique insight into the creative process comes from his years as a multi award-winning agency copywriter, while his eye for production design and overall visual expertise comes from his training at Elam School of Fine Arts, where he graduated as a graphic designer and illustrator.
---
"Everybody loves Steve; it's such a pleasure having him in the building. He tells a bloody good story, and passes it all on to our younger directors."
---
He has worked for all the major agencies in Australia and New Zealand on brand campaigns across many categories with more than 250 commercials to date for the New Zealand, Australian, American and Asian markets.
Says Saussey: "Transmuting ideas, stories, and feelings from page to the screen can be a complex, delicate, mysterious process. My first rule? Work with nice people who know what they're doing. Hence the team at Eight. But don't tell them I said that. What? They're reading this? Oh, hi Eight!"
Says Katie Millington, managing director and executive producer, Eight: "Everybody loves Steve; it's just such a pleasure having him in the building. He tells a bloody good story. He's such a calming force and a wealth of experience, which is so exciting for our younger directors."
---