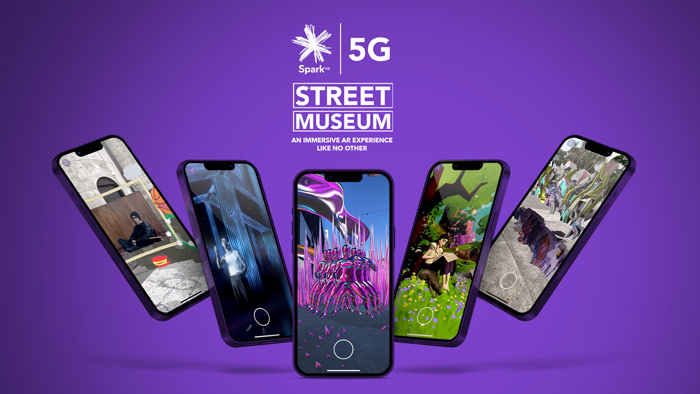 AUCKLAND, Today: In a collaboration between Spark, Colenso BBDO, Assembly and five prominent Kiwi creatives, the Spark 5G Street Museum tests the limits of Spark's new 5G network by demonstrating its potential for creativity.
5G Street Museum consists of five immersive AR exhibits created by Parris Goebel, Benee, TEEKS, Askew One & David Dallas, and brought to life with cutting-edge augmented reality by the team at Assembly.
Assembly director Matt von Trott said: "Each artist came with their own unique creative expression, and it was our challenge to channel that into an augmented reality experience.
"This new technology puts a lot of control into the users' hands, and so we really wanted each experience to encourage exploration and immersion into each artist's world.
"It's been a really exciting journey for us, working with the team and these five amazing Kiwi artists."
---
"Spark's 5G network is up to 5x faster than 4G, which will unlock massive benefits to creative industries."
---
Spark brand lead Olivia Wright said: "5G is so much more than whether or not you can stream your favourite show on the bus. Spark's 5G Network is up to 5x faster than 4G, which will unlock massive benefits to creative industries.
To be able to show a little of this through a collaboration with such amazing NZ artists, has been a really exciting way to get a glimpse of what 5G is capable of."
Colenso CCO Simon Vicars said: "Product demonstrations are always good fun to make when the product is incredible.
Spark's 5G Street Museum uses the 5G network to turn parts of the country into immersive experiences – allowing New Zealanders to step into an AR exhibit and learn from some of the nation's best known creators."
The exhibits can be viewed at 5G locations across Auckland, Hamilton, Wellington, Christchurch & Dunedin, accessed exclusively via the 5G Street Museum app.
Spark 5G Street Museum is also supported by a television, OOH, digital and social.

CREDITS
Client: Spark
Chapter Lead – Brand: Olivia Wright
Agency: Colenso BBDO
Production Company: Assembly
Media Agency: PHD.
PR Agency: Anthem
---