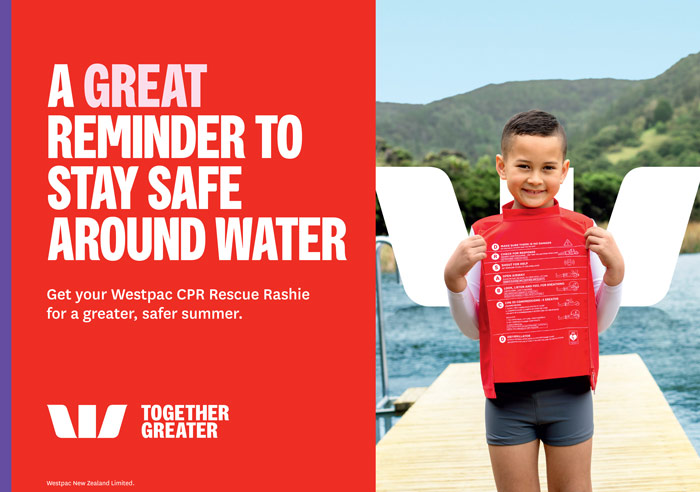 AUCKLAND, Today: Following their appointment as media agency of record in September 2021, Spark Foundry NZ are collaborating on Westpac NZ's latest campaign, helping Kiwi families to stay safe around the water this summer.
Providing rash vests that unzip to reveal clear CPR instructions, the Westpac CPR Rescue Rashies are designed to fit children aged 2-8. They provide potentially life-saving information in a rescue situation and remind families about the importance of water safety.
In addition to featuring a unique fold-back design to display CPR instructions, Westpac Rescue Rashies are brightly coloured, making children easy to spot, and offer UPF50+ sun protection.
The media campaign, led by Spark Foundry, kicked off on Monday 21 November with an integrated partnership with Warner Bros Discovery and the launch of their 'Newscubs', in association with Westpac NZ.
Discovery are putting two fresh-faced, budding young reporters to task, delivering water safety messages to the New Zealand public via crosses on The Project and AM Show. Trained by the one and only Patrick Gower, the "Newscub" reporters are already sharing the Rescue Rashies message far and wide.
An accompanying TV, social, radio and digital campaign will deliver scale across the summer months, working to ensure that water safety is top of mind for all parents and caregivers while out and about over the holiday period, tapping into a period of high mobility.
Media partners also included MetService, to deliver key CPR messaging while people are actively looking at weather conditions as they plan their summer getaways, and mobile partner Blis, to deliver geo-targeted key water safety messaging for parents and caregivers, reminding them to keep water safety front of mind when they're at key swimming spots.
---
"This is the first Rescue Rashies campaign delivered for Westpac through Publicis Groupe's connected platform, with Spark Foundry working in partnership with Saatchi & Saatchi and customer experience experts, Digitas."
---
Announcing the campaign, Westpac NZ ceo Catherine McGrath said, "There were 90 preventable drownings in 2021 – the highest in 10 years – and drownings are on track to rise again this year.
"Reminding ourselves about how vigilant we all need to be near and in the water is really important as we start to enjoy the great NZ summer."
"Our partnership with Westpac Rescue Helicopters has been keeping Kiwis safe for 40 years. We see Rescue Rashies as an added reminder to stay safe, be easily seen and prevent a rescue situation in the first place."
Spark Foundry business director Liam Dunne said, "This has been an incredibly rewarding campaign to work on, highlighting the power of the Publicis connected platform to deliver a piece of work we can all really get behind and be proud of.
"More so, working with collaborative partners in Warner Bros Discovery and Westpac has made for an enjoyable experience that will hopefully come through in the content that is being produced.
"It's really special to be giving the Rescue Rashies the fame and support they deserve, while also driving further awareness of Westpac as a force for good."
This is the first Rescue Rashies campaign delivered for Westpac through Publicis Groupe's connected platform, with Spark Foundry working in partnership with creative agency Saatchi & Saatchi and Customer Experience experts, Digitas.
Westpac is giving away about 1000 Rashies to Kiwi kids around the country over the next few months. The remaining 7000 are currently on public sale, with 100% of the $25 purchase price going to the local rescue helicopter of the purchaser's choice.
About Spark Foundry
Spark Foundry is a global media agency brand within Publicis Media, a key division of Publicis Groupe, with 3000 employees and 60 offices in key markets, including the USA, UK, MENA, Poland, Australia, China and New Zealand.
---