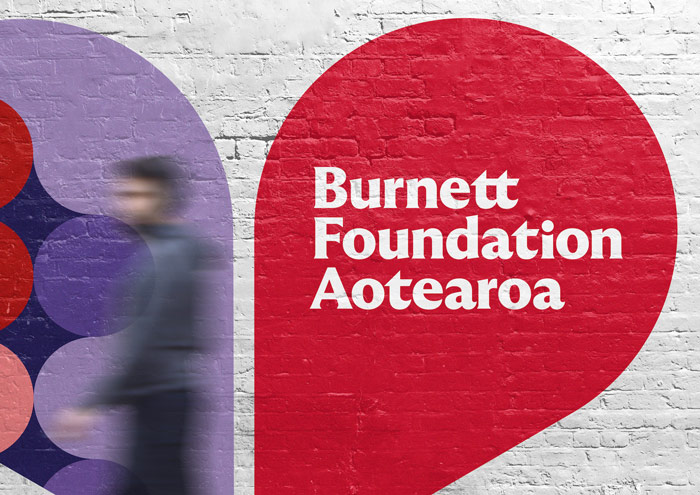 AUCKLAND, Today: The New Zealand AIDS Foundation has relaunched as Burnett Foundation Aotearoa, in new work delivered by Special and Special PR.
Burnett ceo Joe Rich said: "We tasked Special with developing a new, more vibrant brand to better reflect the organisation's mahi almost 40 years after it was founded.  
"The new name pays tribute to pioneering AIDS activist Bruce Burnett, who was instrumental in orchestrating the early days of Aotearoa's public response and co-founded the organisation before passing away in 1985.
"In the four decades since his death, the HIV and AIDS landscape has changed drastically with new HIV infections reaching the lowest point in two decades, and the organisation needed to evolve to better suit the future needs of the communities it serves today. 
"For launch, Burnett Foundation Aotearoa collaborated with artist and LGBTIQ+ activist, Shannon Novak to create a mural honouring the past, present and future of the organisation.
"Painted throughout the exterior and interior of the Burnett Centre – the testing and counselling centre for the organisation in Tāmaki Makaurau – the work weaves through the identity.
---
"The new name pays tribute to pioneering AIDS activist Bruce Burnett, who passed away in 1985."
---
"This approach sets up the opportunity to partner with artists to create new works into the future.
"The brand development and design included strategy, naming, visual identity, brand assets, and corporate comms narrative. The PR launch and influencer engagement was brought to life by the earned specialists at Special PR alongside the team at Burnett Foundation Aotearoa."
Special co-founder/executive design director Heath Lowe said: "From the outset, it was important to pay tribute to past heroes and efforts, while celebrating how far the organisation has come.
"We naturally looked to the symbolism and iconography of activism and protest posters, as well as the New Zealand AIDS Memorial Quilt Project for inspiration. We wanted to reflect and honour the vibrancy and spirit of the community's culture through bold artwork, language and attitude."
"The new identity of Burnett Foundation Aotearoa was designed to retain the credibility of the foundation while reflecting the understanding, supportive and welcoming nature of the diverse and colourful communities they serve.
Special PR worked in collaboration with Special and Burnett Foundation Aotearoa to create an earned PR campaign delivering mainstream media and consumer awareness about the rebrand.
---
"The new identity retains the credibility of the foundation while reflecting the supportive and welcoming nature of the diverse and colourful communities they serve."
---
Special PR head of PR & influence Kelly Grindle said: "Our strategy with this launch was to start with the community, and spread the news outwards.
"We executed a teaser phase with more than 150 generous posts from community activists, advocates, and leaders, before rolling out a national PR campaign that told the story of Bruce through the eyes of his friends and historical archives."
"In the 48 hours leading up to the reveal of the new brand, Special PR orchestrated a nationwide tease campaign, posing the question 'Have you heard what Bruce did?'
"This was predominantly shared by community influencers and advocates including Kita Mean, Eli Matthewson, Quack Pihiri, Robbie Mason, Cam Mansel and Sharyn Casey.
"It also included generously donated media space from NZME, JCDecaux and LUMO.
"By focusing on the community to spread news, and the voices of Bruce's friends and activists in our PR, we were able to humanise a rebrand story – achieving blanket coverage across the media scene in Aotearoa."
Burnett ceo Joe Rich said: "Evolving a brand after almost 40 years is no mean feat, and we were impressed with the way that Special looked to our organisation's roots and legacy, to set us up for the future.
"The result is something we are really proud of, and we're excited to move forward as Burnett Foundation Aotearoa."

CREDITS
Agency: Special
Executive Design Director: Heath Lowe
Design Director: Richard Francis
Intermediate Designer: Maddeline Lissington
Head of PR and Influence: Kelly Grindle
Senior PR Director: Rebecca Lawson
PR Director: Sarah Prigg
Senior PR Manager: Duncan Killick
PR Executive: Arabella Mitchell
Creative Director (copy): Sarah Shepherd
Creative Director / Cultural lead: Arnya Karaitiana
Group Business Directors: Emma Vivian, Katie Hamilton
Senior Business Manager: Shalin Kothare
Group Strategy Director: Nick Salter
Strategist: Amy Willemse
Studio Manger: Gavin Le Claire
Studio Artwork: Scott Harley
Studio Artwork: Barry Cumming

Client: Burnett Foundation Aotearoa
Chief Executive Officer: Joe Rich
Marketing, Communications and Fundraising Manager: Mickey Power
Marketing and Engagement Specialist: Blaise Clotworthy
Designer: Matthias Bucher
Marketing Team Lead: Ciarin Butler-Smith
Communications Producer and Media Liaison: Matt Bain
Former Chief Executive Officer: Jason Myers
Senior Services and Outreach Co-ordinator: Rodrigo Olin
Services and Outreach Manager: Alex Anderson
Marketing Co-ordinator: Sophearith Dareth
Digital Marketing Specialist: Hannah Watson-Frank
Fundraising Team Lead: Russell Bradshaw
Artist Collaboration: Shannon Novak
About Burnett Foundation Aotearoa
Burnett Foundation Aotearoa has been at the forefront of the community response to HIV in Aotearoa for more than 30 years. In response to the AIDS epidemic in the early 1980s and originally known as The AIDS Support Network, we joined the fight to decriminalise homosexuality and uphold the rights of those living with HIV and the broader Rainbow community. Together, we are working towards an Aotearoa with zero HIV transmissions where people living with or affected by HIV flourish.
---