WELLINGTON, Today: Special Wellington has announced its first major account, securing brand communication, strategy & advertising services with online retailer Trade Me – without a pitch.
The incumbent agencies were Colenso BBDO Auckland and Clemenger BBDO Wellington. 
Sally Feinson, the marketing and communications director for Trade Me, said: "Special worked in partnership with Matt Kingston's new strategic consultancy Time & Place and are tasked with delivering a new brand platform and integrated advertising campaign to help revitalise the much-loved Kiwi brand that has recently turned 23.
"We took a different approach to develop its brand and creative strategy.
"We had to take a long hard look at how our brand is showing up and be prepared to hear the good, the bad and the ugly when we engaged Matt Kingston to work with us.
"This involved finding partners who could work collaboratively to co-create a strategy that will endure and come to life cohesively across all parts of our business.
"Working with an agency with Special's credentials gives us enormous confidence and we've been impressed and excited by the quality of work that we are seeing from the Special team.
"We're delighted at the progress we've collectively made in a short amount of time and are looking forward to seeing where this brand journey takes us."
---
"Creative talent for Special Wellington has been appointed, and will be announced imminently."
---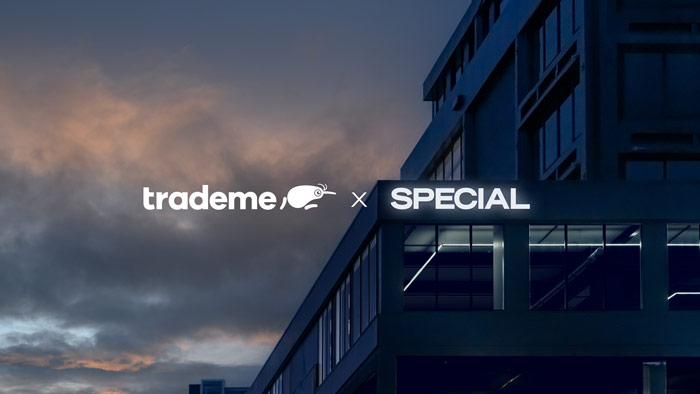 Trade Me is the first anchor client in Special Wellington – sitting alongside an existing portfolio of Wellington-based clients from Special Auckland such as Education New Zealand.
Special founder/ceo Tony Bradbourne said: "Trade Me is a dream brand and marketing team for Special Wellington to be working with.
"It's a place where just about every Kiwi turns if they are looking for new things, a new job, a new home or a new car. We are looking forward to creating work and results that help take this renowned brand forward."
"We opened Special Wellington to more closely partner with brands and clients based in the city. To bring our style of business changing creativity and effective thinking to the capital. Ultimately to make a difference. And to hopefully add to the already vibrant creative culture here. So far the response has been fantastic."
"Special Wellington has hired a mix of leading Wellington talent to launch the new office alongside some international talent. The agency has lured Phil Baker, global business director at VMLY&R back from London to be its general manager.
"Joining him are Mereana Beconcini (Ngāti Porou, Ngāti Kahungunu ki Wairoa, Ngāti Ruapani) and Matt Barnes as lead business partners, alongside Bethany Omeri as head of strategy.
"Creative talent for Special Wellington has been appointed, and will be announced imminently.
Special Wellington lead business partner Matt Barnes said: "We want to contribute to lifting the creative community in Wellington – and the Trade Me work will be a testament to that."
---